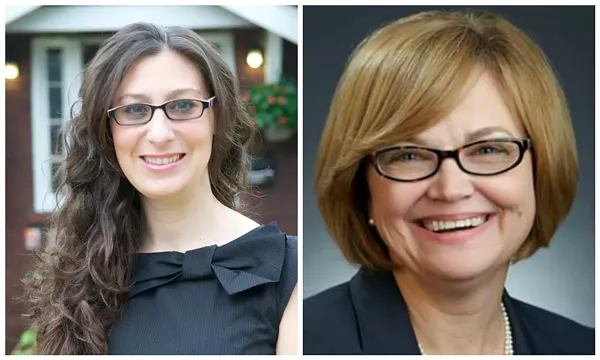 Images via Facebook
Megan Ellyia Green beat Jennifer Florida in a show of progressive power on Tuesday.
They didn't win all their Democratic primary races on Tuesday, but a movement of young progressives continued a steady creep in its quest to overtake city politics in St. Louis.
Candidates backed by liberal supporters picked up three seats, held onto one big one and scored a major upset in contests for the Board of Aldermen.
One of the movement's new leaders, Megan Ellyia Green, easily beat longtime politico Jennifer Florida in the 15th Ward, which covers much of Tower Grove South. Green had succeeded Florida in 2014 when the longtime alderwoman traded her seat for an appointment in City Hall as recorder of deeds.
Green won a special election in 2015, but she was expected to have a serious fight when Florida returned this year to try to reclaim her old seat. Instead, she
nearly doubled up her predecessor
, according to unofficial results.
"I feel like in a lot of ways, I was kind of the tip of the spear," Green said Tuesday night. "I was the first kind of outsider candidate that got elected that wasn't supposed to get elected, and then did some unconventional things like standing with Black Lives Matters protesters, and then still managed to get re-elected."
Not too far way in south city, Dan Guenther became the latest newcomer to take out a longtime incumbent. He toppled Ward 9 Alderman Ken Ortmann, who had held the seat since 1999. The ward, which covers parts of seven neighborhoods across an ax-shaped swath, includes long stretches of the new progressive power center along Cherokee Street.
Guenther, who doesn't own a car and supports standard-bearer issues such as a $15 minimum wage, had the backing of the increasingly influential Ward 20 Alderwoman Cara Spencer. He was also supported by Mobilize Missouri, which endorsed a slate of progressives in St. Louis races.
Two of the organization's picks — John Collins-Muhammad in Ward 21 and Sarah Wood Martin in Ward 11 — claimed open seats. Martin replaces Tom Villa, who decided not to run again. Muhammad is the new Democratic choice in a ward opened up by Antonio French's unsuccessful mayoral bid.
But the old guard has not lost all its power. Longtime incumbent Alderman Joseph Roddy stomped challenger Joe Dierkemper in Ward 17, which covers parts of seven neighborhoods, including Midtown and the Central West End. Roddy had been criticized lately as the practice of granting generous tax abatements has come under fire, but it did not seem to hurt him in his own ward on Tuesday.
Tammika Hubbard also rolled to victory in Ward 5, despite a
string of body blows to her politically powerful family
in recent months. She emerged easily from a six-candidate race that included progressive favorite Megan Betts.
Incumbent Sharon Tyus also held onto her seat in Ward 1, and Alderwoman Marlene Davis won big in Ward 19.
Thomas Oldenburg defeated former state Representative Michele Kratky for state Representative Donna Baringer's old seat. Brandon Bosley won in Ward 3 to replace his father, Freeman Bosley Sr., who is retiring.
Aldermen Jack Coatar, Beth Murphy, Joe Vaccaro and Shane Cohn all ran unopposed.
Danny Wicentowski contributed to this story.
We welcome tips and feedback. Email the author at [email protected] or follow on Twitter at @DoyleMurphy.