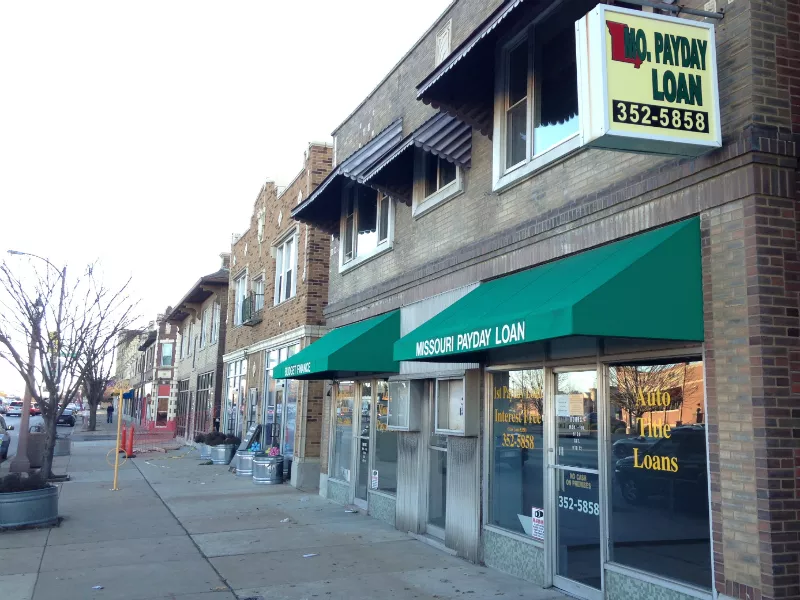 Photo by Doyle Murphy
Payday lenders in St. Louis won't have to pay a fee or take extra steps to explain loans to borrowers.
Payday lenders are going to have to pony up.
St. Louis voters overwhelmingly approved a new plan to make those who want to run short-term lending operations buy a $5,000 permit each year and provide straightforward information to their customers.
The regulations were on Tuesday's ballot as Prop S, a measure sponsored by Ward 20 Alderwoman Cara Spencer.
Critics' complaints about the payday loan industry focus on the super-high interest rates and the often murky reality of the terms. It's an industry that depends on low-income people who can't dip into savings or borrow a few hundred bucks from financially stable relatives.
The city doesn't have the authority to rein in interest fees. Those are capped at 75 percent for a two-week loan (works out to just less than 2,000 percent for an annual percentage rate) at the state level. So Spencer's measure was instead designed to be a signal flare to attract more support to regulating an industry that extracts massive fees from desperate people.
The annual permit fee collected under Proposition S will go toward creating an office of oversight, complete with an inspector to police lenders. Leftover money is supposed to help cover the expense of demolishing vacant buildings and stabilizing poor neighborhoods.
Lenders will be required to make the cost of those high-interest rates more clear while providing information about alternatives — sort of like how funds from a big tobacco settlement now pay for commercials that educate people about the risks of smoking.
The proposition targets short-term lenders, which includes car title lenders and check-cashing operations. They already charge the maximum allowable fees, so expect to see the cost of the permits falling on them, not their customers.
We welcome tips and feedback. Email the author at doyle.murphy@riverfronttimes.com or follow on Twitter at @DoyleMurphy.