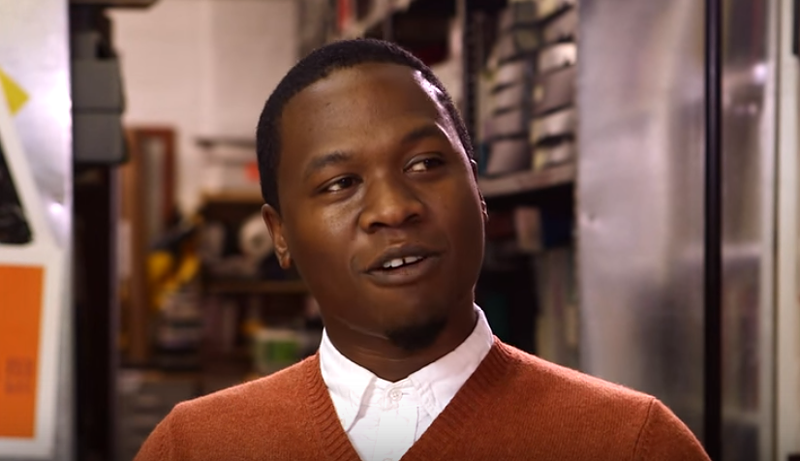 Image via BricTV on Youtube.com
Juan Thompson, a reporter, was fired for allegedly making up quotes.
Disgraced former journalist Juan Thompson has been arrested on federal cyberstalking charges after the FBI traced multiple bomb threats against Jewish community centers and the Anti-Defamation League to the St. Louis native, authorities say.
See our latest update: Before Bomb Threats, Juan Thompson Unraveled — and Terrorized an RFT Reporter
Thompson, who was
the subject of a Riverfront Times investigation last year
, called in the threats as part of a bizarre scheme to frame an ex-girlfriend, according to the Justice Department.
"Today, we have charged Juan Thompson with allegedly stalking a former romantic interest by, among other things, making bomb threats in her name to Jewish Community Centers and to the Anti-Defamation League," U.S. Attorney for the Southern District of New York, Preet Bharara said in a statement. "Threats of violence targeting people and places based on religion or race — whatever the motivation — are unacceptable, un-American, and criminal. We are committed to pursuing and prosecuting those who foment fear and hate through such criminal threats."
Thompson, 31, was once a reporter for The Intercept, but he was fired after the New York City-based news site found he had been making up sources. Our investigation turned up even more journalistic problems dating back to his college days at Vassar in Poughkeepsie, New York.
Thompson later briefly surfaced at an online news site, but
was fired after someone there learned of his background
. He has blamed racism for his difficulties and
self-published a piece on Medium
blasting The Intercept and "the white liberal media."
More recently, Thompson
launched a GoFundMe campaign
, claiming he was running for St. Louis mayor. (He never filed the necessary paperwork.)
"This election is all about people power," he wrote. "Because only with your voices and your votes and your power can we fight back against Trumpian fascism and socio-economic terrorism." He raised just $25 of his $5,000 goal.
See our latest update: Before Bomb Threats, Juan Thompson Unraveled — and Terrorized an RFT Reporter
Also, check out the federal complaint.