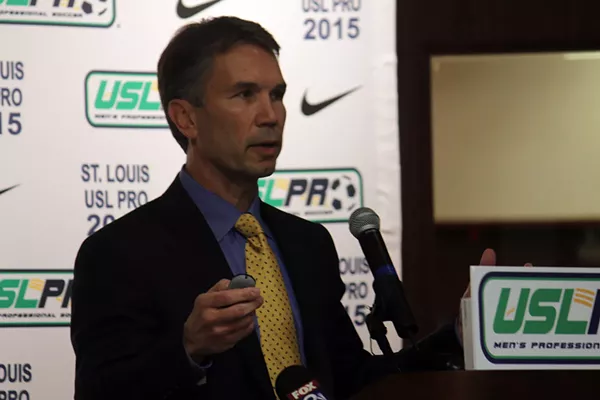 Photo by Danny Wicentowski
SC STL vice chair Jim Kavanaugh.
The marketing campaign to convince city voters to divert $60 million of new tax revenue to build a 20,000-seat soccer stadium in downtown St. Louis is already in full swing — with an argument that doesn't quite pass the smell test.
For the past several months, the push to establish an MLS team in St. Louis has captured the imaginations of the city's long-suffering futbol fans. But the need to construct
a new stadium
— at a cost of around $200 million — has provoked some voters' well-earned skepticism toward already wealthy team owners seeking public money for stadiums.
The ownership group behind the soccer proposal, known as SC STL,
initially sought $80 million in public financing
. The money would be collected by raising the city's "Use Tax" on businesses making out-of-state purchases. Although the original plan won the support of league officials and outgoing St. Louis Mayor Francis Slay, it was met with strong opposition in the Board of Aldermen. Eventually,
after much wrangling
, SC STL reduced its request to $60 million. The concession was enough to get the financing plan passed by the full board
earlier this month
.
Now, the only thing standing between St. Louis and the proverbial welcome mat for a new pro soccer team is
a public vote on April 4
.
"The facts are clear and compelling this is good for St. Louis,"
tweeted
SC STL's vice chair Jim Kavanaugh on February 18. Kavanaugh, the CEO of St. Louis-based World Wide Technology, is a major figure in the local soccer community, having founded both the United Soccer League team Saint Louis FC (sort of a soccer version of a Triple-A farm team) and the Scott Gallagher Soccer Club.
Kavanaugh's tweet, however, contained a startling assertion about who exactly will be paying for the stadium. Attached to the tweet was a branded campaign graphic encouraging residents to vote in the April 4 municipal election.
"City residents pay ZERO unless they visit the stadium," the graphic alleged.
But while this claim sounds great, it runs into a serious conflict with... reality.
"That seems like a flat-out lie to me," said 21st Ward Alderman Antonio French when shown the tweet and
similar
campaign ads
. "That is completely misleading and dishonest. That is not how taxes work."
Here's how the taxes actually work: On April 4, city voters will be presented with a ballot that will include (
among other things
) Proposition 1 and Proposition 2.
Proposition 1 would add a half-cent sales tax to help fund a new north-south line for the MetroLink service area. If residents vote yes on Proposition 1, then the approval would automatically trigger a separate half-cent increase in the city's Use Tax. That's where Proposition 2 comes in: It asks voters to approve sending $60 million of
that
new tax revenue to fund the stadium.
Now, the Use Tax is paid by businesses, not residents. That's how stadium backers can justify the verbiage they're using. (For instance, one slide featured in the "project overview" section of the SC STL website states: "If you aren't a business paying the Use Tax or don't go to the stadium, your money will NOT be used for this project.")
But this is the critical part: If voters turn down the stadium funding in Proposition 2, the new Use Tax revenue doesn't disappear. Instead, that money — estimated at $4 million annually — would likely help fund the city's Affordable Housing Trust Fund and efforts to demolish vacant buildings and bolster the police department. The stadium plan would take away revenue that could be used for other things .... leaving a greater share of the burden on, yes, city residents.
"That is money that would go directly towards much-needed services," said French, who voted against the stadium proposal when it came before the Board of Aldermen. "They're asking voters to redirect it to their private venture."
But as French points out, even city residents who don't pay the Use Tax will feel the consequences if that money is funneled to a stadium.
"Regardless of where the money came from, once it gets into the city coffers, it becomes the money of the people," French explained. "It is completely misrepresentative to suggest that city people won't be paying this. The tax money is the people's money."
French isn't the only one who sees a fundamental dishonesty in SC STL's campaign.
In a public Facebook note published Sunday
, progressive activist and
Team TIF volunteer
Glenn Burleigh pointed out that the city is facing a mounting debt crisis and will have to come up with new revenue some way or another. If it doesn't come from the Use Tax increase, Burleigh predicts that city residents will soon face — you guessed it — fee hikes to cover the shortfall.
"The idea that city taxpayers are going to give up $4 million a year in revenue, and not have it be replaced in some way — that's crazy to me," Burleigh says. "[SC STL] just wants to pretend that the money wouldn't have gone somewhere else, which is ridiculous."
In fairness, SC STL promises to be a better corporate citizen than the
pro sports team owners St. Louis has been saddled with in the past
. The ownership group has vowed to keep the team in St. Louis, and the downtown stadium project is predicted to create 400 temporary construction jobs and more than 450 permanent jobs once it's complete. Additionally, the deal includes a 30-year lease with the city and a provision that would require the team's investors to cover the construction cost if the Use Tax revenue proves to be insufficient.
Reached through a spokesperson on Monday, Kavanaugh defended SC STL's claim that city residents will "pay zero" for the stadium unless they visit it.
"City residents will specifically not be taxed to help fund the multi-purpose stadium unless they attend events at the facility," said Kavanaugh in an emailed statement. "If Propositions 1 and 2 each pass, any potential stadium funding would be sourced from only the half-cent increase in the Use Tax that is paid by select St. Louis businesses, not city residents, on out-of-state purchases."
But as French and Burleigh note, Kavanaugh's argument only works if you accept that removing $4 million of annual city revenue has no effect on the people who depend on the city's various services and departments. Call us cynical, but it's an argument that seems to make less and less sense the more we think about it.
Follow Danny Wicentowski on Twitter at @D_Towski. E-mail the author at Danny.Wicentowski@RiverfrontTimes.com