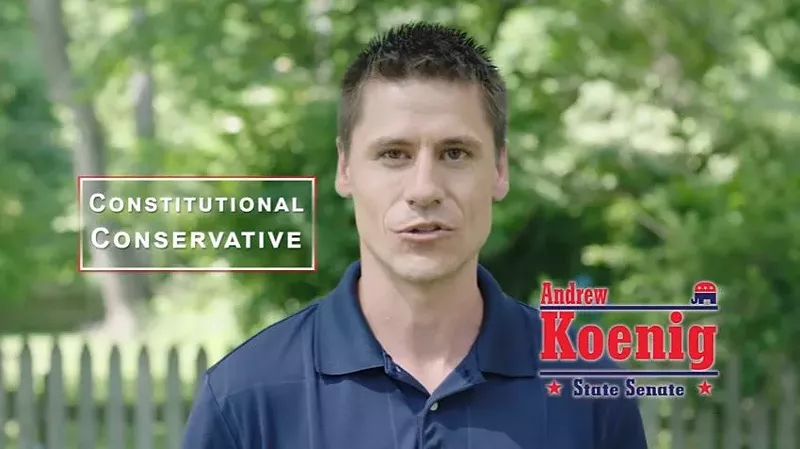 via YouTube
Missouri Senator Andrew Koenig, shown here in a campaign video, invoked the "[trans] kids say the darnedest things" argument yesterday.
On Tuesday, Missouri lawmakers serving on the state's education committee heard testimony for
a proposed "bathroom bill"
that would require public school officials to bar transgender students from using restrooms that don't match their birth certificates.
The bill is similar to a North Carolina law that last year triggered corporate boycotts against the state, although Missouri's version would affect only schools, not other public entities.
Missouri Senate Bill 98
would restrict usage of public school bathrooms and locker rooms based a traditional view of "biological sex" as determined by a person's anatomy and birth certificate.
Senator Ed Emery (R-Lamar), the bill's sponsor, began Tuesday's hearing by claiming that "gender has never been subjective until recent times." He also argued that the bill sought only to ensure the "personal privacy and safety" of the state's roughly 900,000 students.
Tuesday's hearing was notable for featuring a startling array of uninformed opinions about gender identity and biology, culminating in a different state senator suggesting that a child choosing a gender identity is pretty much the same thing a child pretending to be a dog or a spaceship.
"Kids say funny things," remarked Senator Andrew Koenig (R-Manchester) during a question directed at representative for PROMO, a statewide LGBT advocacy organization that opposes the bill.
"'Oh, when I grow up I want to be a dog,' or who knows what," Koenig continued. "But that doesn't mean that I turn around and try to cultivate that and say, 'Yes, you can be a dog.'"
Koenig's comments, however, raised the hackles of Dr. Sharon Dunski Vermont, a St. Louis-area pediatrician
and a parent of a transgender teenager
.
"I'm hoping that after my testimony I can answer those earlier questions," Vermont began, "about why my child should be not allowed to transition to a dog."
Vermont's remarks are worth listening to in full. They start at around the 2:13:00-mark in the video below.
Before Vermont began her full retort, she asked Koenig to repeat his question.
"Kids, in play, they say different things," Koenig said, adding an additional example to his previous query. "They say, 'I want to be a spaceship.' Does that mean that we should say something like that and affirm that?"
Vermont proceeded to wreck Koenig's point.
"You're right," she said, "Kids do pretend to play. I pretended to be a princess when I was little, and obviously that did not turn out. But when I pretended to be a princess or your son pretends to be a dog, we are not distressed about the fact that we aren't being a princess or dog, we are not depressed or anxious. We're not talking about cutting off parts of our body because we're not a dog or a princess."
Trans children don't decide to change their gender identity on a whim, Vermont continued. The process can take years, and it's not easy for a parent to come to the realization that their child is in genuine pain.
"No one suffers because they are not a dog or princess."
Indeed, the Tuesday hearing highlighted the disconnect between conservative lawmakers like Emery, who dismiss the concept of gender identity as a "mindset" or an indication of mental illness, and the
growing chorus
of parents, scientists and equality activists who caution that such "bathroom bills" only harm kids who are already at risk for bullying, depression and suicide.
Koenig, we should note, had no response to Vermont's forceful defense of trans kids or, for that matter, to the next person called to testify against the bill — a thirteen-year-old trans girl who broke down crying when describing the bullying she'd faced in school, just for being "who she was."
No vote was taken at the Tuesday hearing. Under the bill's provisions —
which you can read in full here
— transgender students would be required to use separate bathrooms, such as unisex or faculty bathrooms, but only after obtaining permission from a parent or guardian. However, the bill provides no guidance on how school officials are supposed to investigate the bathroom habits of their students, an omission that prompted University of Missouri-St. Louis biology professor Zuleyma Tang-Martinez to question whether school staff would be expected administer blood-tests or genital examinations.
"Not only is this bill unsound scientifically," said Martinez, "but it is also unenforceable."
Follow Danny Wicentowski on Twitter at @D_Towski. E-mail the author at Danny.Wicentowski@RiverfrontTimes.com