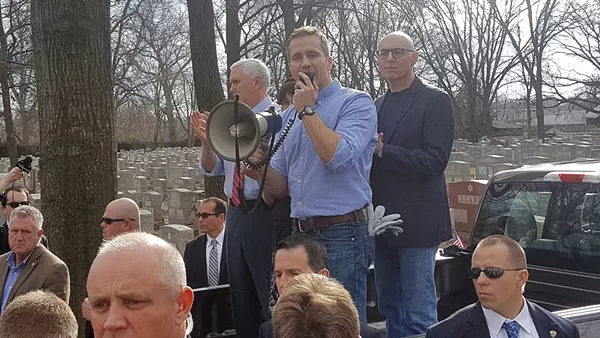 Photo by Danny Wicentowski
Vice President Mike Pence (left) joins Gov. Eric Greitens on Wednesday at Chesed Shel Emeth in St. Louis.
Vice President Mike Pence made an unannounced stop this afternoon at a Jewish cemetery in St. Louis where vandals toppled nearly 200 headstones.
"There's no place in America for hatred or acts of prejudice or violence or anti-Semitism," Pence told an overflow crowd at Chesed Shel Emeth. "I must tell you that the people of Missouri are inspiring the nation by your love and care for this place, for the Jewish community, and I want to thank you for that inspiration — for showing the world what America is really about."
Pence was in St. Louis for a scheduled stop at a Fabick Cat, a Caterpillar equipment sales and service shop in Fenton. After his speech on small business, he made a surprise detour to the cemetery, which vandals struck over the weekend. He joined Gov. Eric Greitens and hundreds of volunteers who have been working to clean up and repair the damaged headstones.
"Thank you Gov. Greitens, and on behalf of the President of the United States, let me just say thank you to all of you for coming out and showing the heart of this state and the heart of this nation in this place," Pence said. "You just make us all proud. God bless you."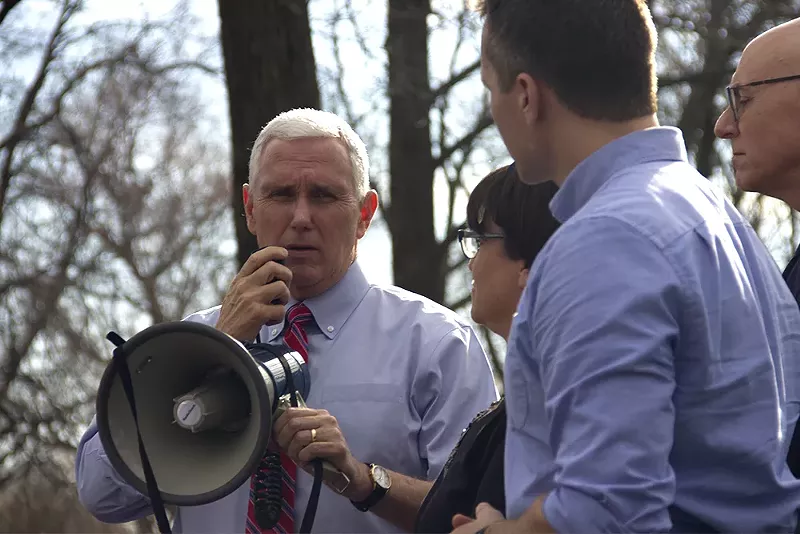 Photo by Danny Wicentowski
Vice President Mike Pence addresses a volunteer cleanup crew at Chesed Shel Emeth.
Greitens called the damage done to the cemetery "a despicable act of vandalism."
"It was anti-Semitic, and it was painful to so many families," Greitens said, adding, "Moments like this are what a community is made of, and today we're going to demonstrate that this vile act of desecration is not who we are. We are instead going to turn it into a moment of resolve."
<!————StartFragment————>The vandalism at the St. Louis cemetery coincided with a recent wave of bomb threats against Jewish centers across the nation. Trump has taken heat for being slow to denounce anti-Semitism, even as critics claim he's emboldened those behind the threats and vandalism.
He spoke out yesterday
following a tour of the National Museum of African American History and Culture in Washington, D.C.<!————EndFragment————>
In St. Louis, Pence and Greitens spent about 20 minutes cleaning up headstones in a portion of the cemetery before departing. Greitens,
who is Missouri's first Jewish governor
, said President Trump had called him earlier in the day.
"He asked me on his behalf to personally thank all of you," the governor said. "Thank you for standing up in the fight against anti-Semitism."