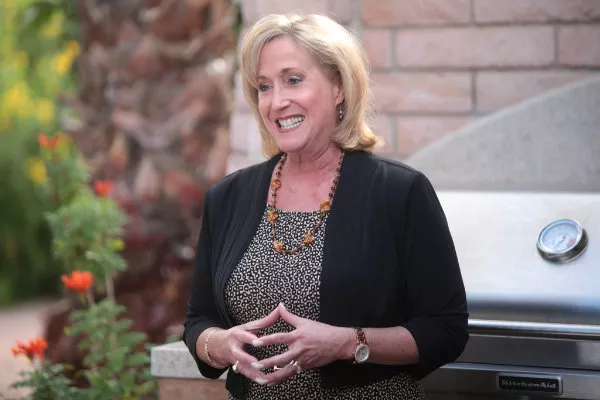 Photo courtesy of Flickr / Gage Skidmore.
Representative Ann Wagner.
Indivisible St. Louis, the grassroots political action group behind the
pro-immigration protest at Senator Roy Blunt's Clayton office
on February 1, has a new demonstration on the calendar — this one aimed at Congresswoman Ann Wagner (R-St. Louis).
Residents of Missouri's second congressional district plan to gather on sidewalk outside at the Edward Jones headquarters in Des Peres
on February 23 at noon to call for Wagner to hold a public town hall meeting. While Wagner's policies and proposals have benefited her donors, organizers are concerned that she doesn't realize how her policies affect the citizens of her district.
Wagner's top source of donations in the 2016 cycle
were employees at Edward Jones' parent company, Jones Financial, who kicked in $42,400 to her campaign and another $8,200 to related political action committees.
"We thought that perhaps if we had held a rally in front of the Edward Jones headquarters, we could get her attention and maybe it would be an opportunity for her to listen to our appeals for a broader public venue," says Paul Gordon, one of the rally organizers.
Indivisible St. Louis is particularly interested in issues such as the possible repeal of the Affordable Care Act, the immigration ban and the administration's ties to Russia. Beyond that, though, Wagner has failed to hold a face-to-face town hall meeting with the public since she was first elected in 2012. Constituents requesting a town hall meeting over the past month by email, phone and in-person visits to Wagner's local office have been told only that Wagner has "nothing scheduled during this time," according to a press release from Indivisible St. Louis.
Meanwhile, Wagner's well-heeled donors have benefited from the legislation she's supported. One such instance? President Trump's signing of a memorandum to roll back the "Fiduciary Rule" —
which Wagner helped craft
. Edward Jones managing partner Jim Weddle told the
Wall Street Journal
last summer that the rule would hurt the company's earnings.
"We feel that Ann Wagner has done a great job of representing the moneyed interests in her district, and we are hoping that she will be open to hearing from those of us who cannot afford to make the kinds of donations that Edward Jones makes," Gordon says.
A call to Wagner's Washington, D.C., office for comment was not returned.
The demonstration will be held on Thursday from 12 p.m. to 2 p.m. on the public sidewalk in front of the Edward Jones building at 12555 Manchester Road. For more about Indivisible St. Louis, or to participate, visit the organization's
Facebook page
.

Editor's note: This story was edited after publication to correct the date of the demonstration at Senator Roy Blunt's Clayton office. It took place on February 1, not in January. We regret the error.