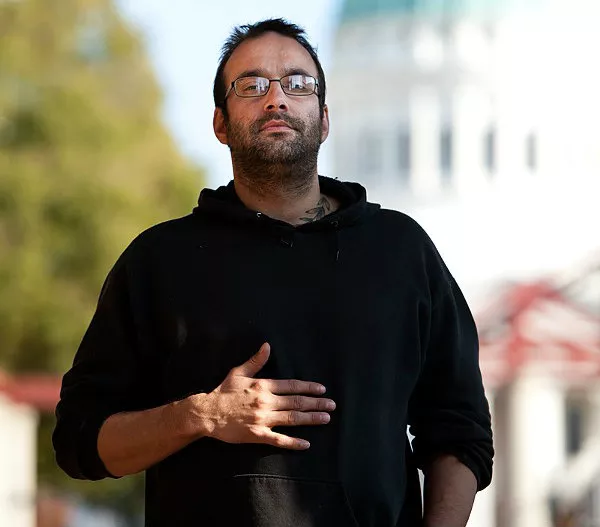 PHOTO BY JENNIFER SILVERBERG
Adam Hayat participated in the 2011 during Occupy protests in St. Louis.
A former St. Louis County resident was taken into custody on Thursday near Los Angeles International Airport after police found bombs he had left in a Denver hotel room, according to media in Colorado.
Adam Hayat, 35, of Clayton is a former Marine and an Iraq War vet who had struggled with mental illness since leaving the service. He joined the Occupy protests in St. Louis and
spoke candidly with the Riverfront Times in 2011 about his problems
.
"I lost my job waiting tables two years ago after a series of breakdowns," he told the
RFT
while explaining his reason for joining the protests. "I want the President to look into the backlog of disability claims at the veterans administration. I'm here on behalf of all veterans who deal with Gulf War Syndrome."
Those problems, including PTSD, continued in the years that followed, leading to homelessness,
his father told a Denver ABC affiliate on Thursday
.
Dr. Sultan Hayat, a St. Louis-area cardiologist, says the younger Hayat had been estranged from his family in Clayton for years and that he had not spoken to him in months. Colorado police called Sultan Hayat on Thursday and told him his son had run up a $10,000 bill since December 26 at a Denver Sheraton before leaving for California.
"Police said he had bought some firearms, and they were concerned that he may hurt himself or someone else,"
Sultan Hayat told Denver 7
. "I was very surprised."
Police in the Denver area responded Wednesday night to the Sheraton after getting reports of a suspicious package.
Police later said they had "collected some evidence for further evaluation."
Citing law enforcement sources, Denver 7 reported that investigators found a note written in lipstick on the hotel room mirror that referenced pipe bombs in the room's safe.
Investigators then tracked Hayat to California using his phone. He was reportedly carrying knives when authorities took him into custody. His father says Hayat had collected hunting knives since he was a boy.
Editor's note: The name of the Denver hotel was corrected after publication.

We welcome tips and feedback. Email the author at doyle.murphy@riverfronttimes.com or follow on Twitter at @DoyleMurphy.