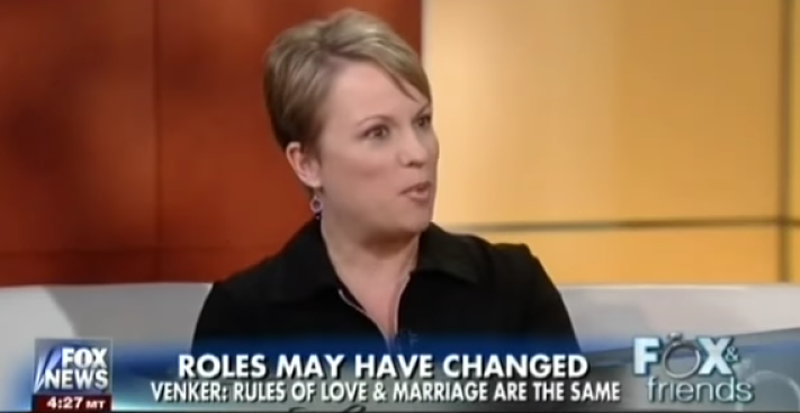 Screenshot from video below
Phyllis Schlafly may no longer be with us, but her spirit lives on.
Specifically, the brand of conservative anti-feminism Schlafly cultivated over her 70 years of political work — most notably, her opposition to the Equal Rights Amendment in the '70s — is still going strong in the form of Schlafly's niece, author and native St. Louisan Suzanne Venker.
"Simply put, women have become too much like men," Venker
writes in a piece
published by Fox News this week. "They're too competitive. Too masculine. Too alpha. That may get them ahead at work. But when it comes to love, it will land them in a ditch."
The piece, under the headline "Society is creating a new crop of alpha women who are unable to love," is an excerpt from Venker's upcoming book,
The Alpha Female's Guide to Men & Marriage
. It argues that, so long as women attempt to wear the pants in their relationships — or really, just not acquiesce to the demands of their husbands — they will not find happiness. Their relationships will suffer, they will live hollow lives devoid of Man's approval, and they will die alone (killed and dumped in a shallow grave, it would seem, based on that "ditch" line).
"An alpha wife micromanages, delegates and makes most or even all of the decisions. She is, quite simply, the Boss," Venker writes. "Alpha women aren't exactly new, but they were once a rarer breed. Today they abound. There are several reasons why, but it's in large part due to women having been groomed to be leaders rather than to be wives."
Venker made an appearance on
Fox & Friends
this week as well, arguing that women should be more "feminine," which she defines as "being nice."
"The husband needs from the woman softness instead of hardness," she tells the panel. "So happiness instead of anger. Being more compliant and less dictatorial. Basically not telling him what to do. Men don't like to be –"
At this point
Fox & Friends
co-host Brian Kilmeade interrupts Venker to talk over her about a Vince Vaughn movie, in a scene that has probably played out in households across the country thousands of times this week alone. Venker promptly shuts her mouth, lest she be accused of getting too "alpha."
Now, full disclosure: I am a man, with a woman in my life whom I adore. When I relayed Venker's thoughts on this matter as though they were good and instructive, she threatened to kill me. When I told her that being feminine means being nice and never telling me what to do, she lobbed a handful of batteries at me. I can't really say she was wrong to do so.
And she wasn't the only woman angry at Venker's ideas. In
an article for Glamour.com
, titled "An Open Letter From an 'Alpha Woman Unable to Love,'" author Elizabeth Logan also takes issue with Venker's directives:
Venker's thesis is that marriages don't work when one partner—namely the woman — is demanding, unyielding, and unable to be pleased by anything the other partner does. And sure, "Don't be an asshole to your spouse" might seem like a basic tenet of marriage, but as Venker explains, this is actually a big problem with our current generation that needs to be addressed right now. Why? Because "women having been groomed to be leaders rather than to be wives." Those leadership qualities — like being bossy and demanding, which will definitely help you get ahead in the office — are apparently antithetical to the three things that, Venker says, make a good marriage: respect, compromise, and sex. But of course!
Logan also rightly points out that one of Venker's sources for this worldview is probably not all that scholarly:
In case you're not yet fully convinced of the wisdom of the radical Be Nice doctrine, Venker has sources. She quotes, quite seriously, "a man named Chuck" who once commented on her website: "A strong woman is awesome. But she must be inviting and be able to mesh into an actual relationship. Needing to dominate and overpower, that is a no-go." Woke-bae alert! Thank you, Chuck, for letting the culture at large know that you're not supposed to dominate and overpower the person you're dating.
The
RFT
profiled Venker and her family
in a 2011 feature stor
y. In it, author Melissa Meinzer describes Venker as a "likeable woman, regardless of whether you agree with her politics." It also paints a picture of her family and home life — a hardworking, doting husband and a pair of kids with "fairly perfect manners" living in a clean home with food defrosting in the kitchen. Venker's philosophy, apparently, has worked for her. That she thinks it will work for
everyone
is the true head-scratcher.
Aunt Phyllis, though, would surely be proud.