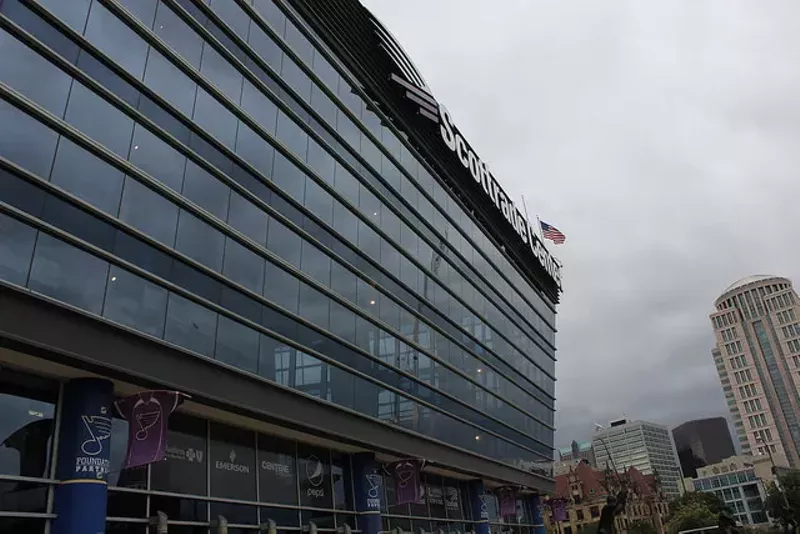 Photo courtesy of Flickr/Nicolas Henderson
Scottrade Center is the home of the St. Louis Blues.
This April, city voters will be asked whether to devote $60 million to Major League Soccer stadium planned for downtown St. Louis, thanks to members of the Board of Aldermen who insisted that any public financing come with a public vote.
But today, the Board is poised to approve an even bigger expenditure — $105 million to renovate and upgrade the city's hockey arena, Scottrade Center. Unlike the MLS stadium, the plan for Scottrade does not include a public vote. And the money would come from the city's general fund, at a time the city is already looking at a $20 million annual budget shortfall.
Scottrade's operators, a limited liability company called SLB Holdings that also owns the Blues, say the
renovations are necessary to allow the 25-year-old center to remain competitive
. Blues Chairman Tom Stillman has said that both the NCAA and concert promoters have threatened to stop using Scottrade unless it gets an upgrade. The $105 million general fund contributions would be coupled with another $50 million from a tax on Scottrade sales.
But some aldermen are questioning why the bill is being pushed through. They've been under pressure to pass the bill before the aldermanic session ends tomorrow, yet there is far from consensus that its details represent the best deal for city residents — or that they've even been fully fleshed out. The city's comptroller has even said a previous version of the plan could hurt the city's credit rating. All the aldermen from north St. Louis are believed to be opposed at this time; some south city representatives are also saying they will vote no, or at least considering it.
One "no" vote is likely to come from Alderwoman Cara Spencer, who represents a south side district that includes part of Cherokee Street. She says some people have defended the expense saying that the city owns Scottrade Center, but she doesn't think it's that simple.
"We own City Hall, we own the streets, we own the rec centers our children play in," she says. "We can't even find the money to pay our cops sufficiently. Yet somehow we've got ourselves in a position where we need to find another $4.5 million in the general fund budget every year to pay for this?"
For Alderman Antonio French, who represents the northside neighborhood of O'Fallon, the deal simply stinks. French,
who is running for mayor
, notes that the Blues ownership group doesn't pay rent to the city.
He's incredulous that some of his colleagues have suggested the city has to pay for renovations simply because it owns the arena.
He says, "We own it as a
favor
to them. They don't want to own it, because then they'd have to pay taxes on it." Since the Blues owners enjoy the profits from events on site, he questions, shouldn't they also be the ones to pay for upgrades?
Beyond that, French believes the city has other options to help the ownership group without encumbering general revenue funds — including, perhaps, a special community improvement district or other special financing plans.
In committee, French notes, "Every north side alderman voted against it, because it's completely insulting to us when you look at the needs we're facing in our neighborhoods."
Aldermanic President Lewis Reed has been pushing the plan, and defended it in a statement to the
RFT
.
"Events at Scottrade have generated over $100 million in revenue directly to the city. That $100 million goes to fund our youth programs, our police, our streets and streetlights and trash pickup, among other things. If we lose events, we won't have that tax revenue," he said. "This is actually a no-brainer. The city owns the Scottrade Building. We must be able to compete with other cities to attract events like the ones held at Scottrade, or our economy will continue to decline. It is not a luxury. It is a must have."
He added, "We spend money from general revenue on our own buildings all of the time. No one's happy about it, but we haven't spent money on the building in 23 years and it is outdated so of course we must invest in it."
Alderman Terry Kennedy, who represents part of the Central West End, Vandeventer and Midtown, was a "no" vote in committee. He says he remains opposed today.
"I understand their timetable, but I need a little more dialogue on this," he says. He'd like to find alternatives to taking the money from the city's general fund.
And ultimately, he'd like to see St. Louis experience a paradigm shift. "We are a community with a significant crime rate and a high poverty rate," he says. "If we can make that a central focus, then we can begin to get in a place where we can solve the rest."

We welcome tips and feedback. Email the author at sarah.fenske@riverfronttimes.com