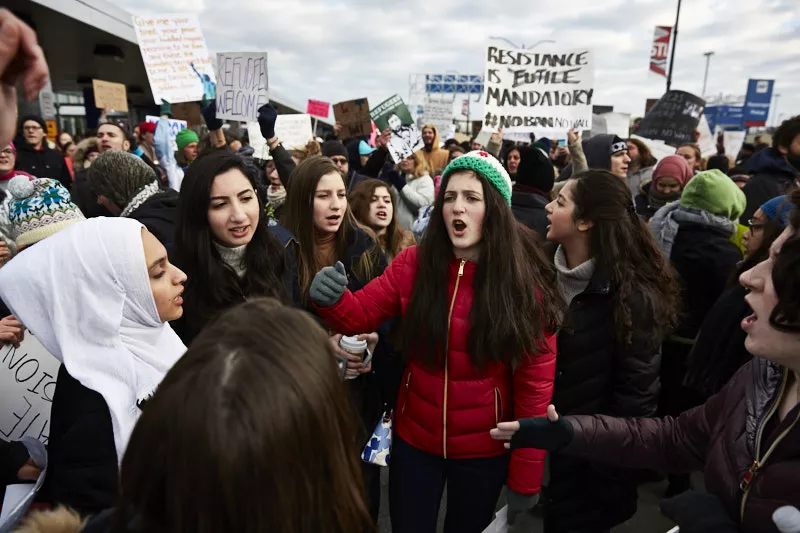 PHOTO BY THEO WELLING
Protesters gathered at Lambert airport last weekend. This weekend, they'll march to the Arch.
If the political news of the week has you fired up and ready to resist, there's another opportunity this weekend to make your voice heard, with a march to the Arch.
On Saturday afternoon, the Missouri chapter of the Council on American-Islamic Relations (CAIR-MO) is hosting a protest in response to the Trump Administration's announced anti-immigration orders, which temporarily bans immigrants from seven predominantly Muslim countries.
The event will start at 1 p.m. at the Federal Court House downtown (111 S. 10th St) for a rally, with tables set up for voter registration and signatures on letters to elected officials. Speeches from various interfaith, civil rights and legal figures will begin at 1:30. The march itself begins at 2 p.m., followed by a rally at the Arch.
As of Friday afternoon, more than 1,500 people indicated on Facebook they were interested in attending.

Also of note: Tonight, CAIR-MO is hosting a panel in Ballwin to discuss the recent executive orders, with attorneys present to answer any legal questions. And for an opportunity to learn more about what CAIR-MO is doing, an open house will welcome newcomers to their new office on Clayton Road on Sunday, February 19.
Of course, CAIR-MO isn't the only group bringing the resistance together. Last Sunday, nearly 1,000 protestors gathered at Lambert airport in support of Muslims and refugees in St. Louis. On Wednesday, there was a protest at Sen. Roy Blunt's office in Clayton, organized by Indivisible St. Louis to urge Blunt to reverse his support of Trump's discriminatory executive order. And if you want to put your money where these marches are, three St. Louis coffee shops are raising money for the ACLU this weekend.
Later this month, MIRA (Missouri Immigrant and Refugee Advocates) is conducting lobbying training. If you're eager to get more involved, other events can be found on the Resist - STL Facebook page, including ongoing campaigns to call Sens. Blunt and McCaskill to reject Trump's nominees and actions.