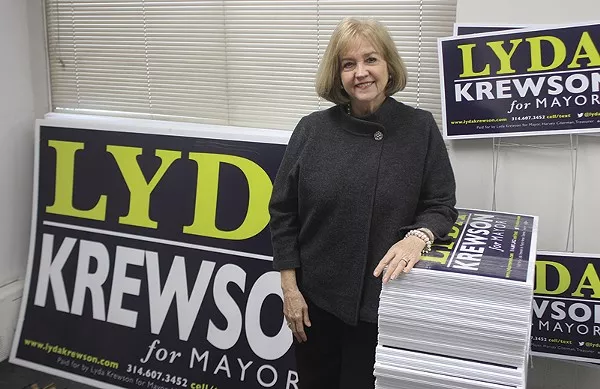 PHOTO BY DOYLE MURPHY
Lyda Krewson just picked up an endorsement from Mayor Francis Slay
Mayor Francis Slay says he knows who he wants to replace him when he leaves office this spring. The city's longtime mayor endorsed Alderwoman Lyda Krewson in a video message posted Thursday online.
"All the candidates for mayor are good people, who want the best for our city," Slay says. "But I believe one candidate, Lyda Krewson, has what it takes to do the job."
Slay cited Krewson's resilience following the horrific murder of her husband and her acumen with the complexity of multi-million dollar budgets as reasons to support her in
a crowded field
.
Krewson is easily the best-funded candidate
with $576,199 cash in hand at the end of the last reporting period, and she's also picked up endorsements from Collector of Revenue Gregory F.X. Daly and the St. Louis Police Officer's Association.
But not all of the big names in city politics are lining up behind her. Former St. Louis Circuity Attorney Jennifer Joyce posted an anti-endorsement on the local social media site, Nextdoor, that paints Krewson as a status quo candidate,
according to the St. Louis American
.
"I believe that we need new thinking to move forward in St. Louis," Joyce wrote, according to the
American
. "That is my problem with Lyda Krewson. When you look at her supporters and advisors, it's Groundhog Day."
Joyce, who chose not to run for re-election, later deleted the post. She didn't endorse a specific candidate but said she was "favoring" Treasurer Tishaura Jones and Alderman Antonio French, whom she praised as "very smart and dedicated to making an impact on crime — which is a huge issue for me."
(It bears noting: The publisher of the paper that broke the story, Donald Suggs,
is Jones' top donor
.)
Slay has
decided to move on
after sixteen years as mayor,
announcing in April
he would not seek re-election. Board of Aldermen President Lewis Reed and Alderman Jeffrey Boyd are also among the major candidates vying to replace him.
We welcome tips and feedback. Email the author at doyle.murphy@riverfronttimes.com or follow on Twitter at @DoyleMurphy.