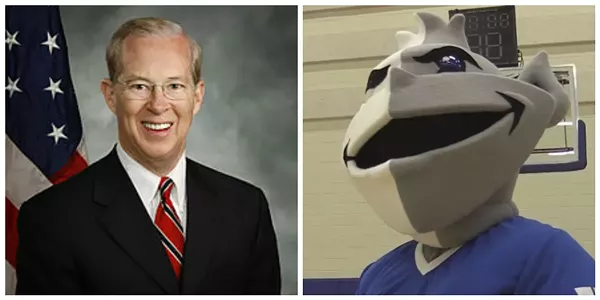 When newly sworn-in President Donald Trump fired Acting Attorney General Sally Yates last night after she flat-out refused to defend his controversial order on immigration, it was bad news for those craving a bit more stability — but good news for any Billiken looking to see their alma mater in the spotlight.
That's because Yates' replacement, the country's newest Acting Attorney General (and why do we have the hunch there could be quite a few of those?), is a graduate of Saint Louis University, three times over.
Dana J. Boente is a native of Carlinville, Illinois, who apparently notched
his B.A., M.B.A. and J.D. from SLU
. After that, in 1982, he clerked for Judge J. Waldo Ackerman in the Central District of Illinois before signing on with the Department of Justice. He's apparently been with the department ever since, and he's notched some high-profile public corruption cases, including those against Congressman William Jefferson (D-Louisiana) and former Virginia Governor Bob McConnell, a Republican.
And lest anyone want to knock Boente for working for Trump, he was nominated to his most recent gig — as the U.S. Attorney for the Eastern District of Virginia — by President Obama. Opensecrets.org doesn't show any contributions to politicians in either party; the
Washington Post
reports that Boente is known to be a tough, but fair, prosecutor who's
"very circumspect" about his politics
.
So: Can this SLU grad keep the ship on an even keel until Jeff Sessions gets his Senate confirmation to be the actual Attorney General? Could anyone? It's a tough job, but can we admit we still have a little St. Louis pride to see a kinda-sorta hometown boy attempting to do it?
We welcome tips and feedback. Email the author at sarah.fenske@riverfronttimes.com