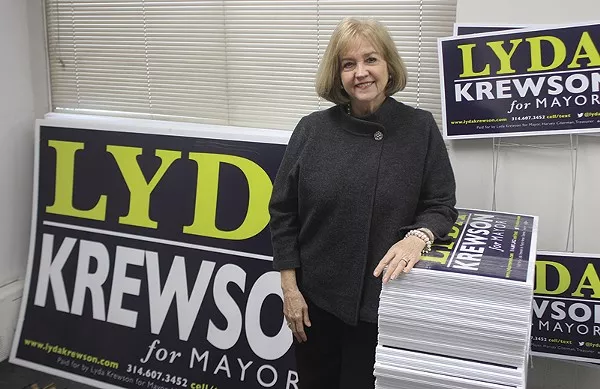 PHOTO BY DOYLE MURPHY
Lyda Krewson.
Lyda Krewson has already spent $282,438 in her quest to become St. Louis' next mayor — but no need to worry about her burn rate.
Even with those expenditures, records show that Krewson still has more cash on hand than any of her rivals have raised to date. She reports having $576,199 in hand as of January 26, the close of the most recent filing period. That's nearly twice as much as her best-funded rivals have in their coffers.
So far, only Lewis Reed and Tishaura Jones have been able to break the six-figure threshhold and come close to challenging Krewson's financial supremacy. Reed, the president of the city's Board of Aldermen, has raised $316,336. Jones, the city treasurer, has raised $276,088, although that includes a $85,883 transfer from her previous campaign. Both have more than $215,000 in hand, with Reed about $40,000 more, as the campaign enters its final six weeks.
Aldermen Antonio French and Jeffrey Boyd — as well as a few lesser candidates — lag far behind those three. Boyd, who has raised $38,462 in total, reports having $21,014 in hand on January 26. French has raised $46,183, but as of January 26 reports just $209.88 in his campaign coffers.
Krewson so far reports receiving $506,932 in donations. Her fundraising success relies in part on developers and others associated with the real estate business, with a plethora of donations in the $250 to the $500 range from both companies and their executives. But her top monetary contribution is $15,000 from Lodging Hospitality Management, which owns the Union Station, the Cheshire Hotel and the Hilton St. Louis at the Ballpark, among others. Indirectly, the company also provided a $7,733 in-kind contribution from the Cheshire Hotel itself. She received $10,000 from a retiree in Eureka, Catherine Ruggeri-Rea.
Krewson has also received $9,600 from Helix Realty, $6,000 from the national design-build firm Clayco, and $9,000 from Red Brick Management. She also received $10,392 from super-lobbyist Lou Hamilton, who represents everything from Schnucks to QuickTrip to the St. Louis Cardinals (oh yeah, and also the St. Louis Police Officers Association, which has also backed Krewson). The chairman of the firm that employs her, PGAV, also made an in-kind contribution valued at more than $28,000.
Jones, who has been critical of some of the deals given to developers, has mostly drawn from a different pool. Her biggest contributor is Donald Suggs, publisher of the
St. Louis American
, who kicked in $25,050. In second place: A tie between local dentist Dr. William Jones and the design-build KAI, which both gave $25,000. She also received $15,000 from Darryl Jones of D & D Concessions.
As for Reed, his biggest donor remains David Steward, the founder of World Wide Technology,
who gave him $50,000
. Steward has donated generously to candidates from both parties in the past, although the most recent federal cycle shows a host of donations to conservative Republicans. State Senator Jamilah Nasheed had suggested that Steward failed to donate to her after learning that she is pro-choice and supports gay marriage; while
Reed initially wouldn't answer our questions on that subject
, he has since publicly and forcefully stated that he, too, is pro-choice and has attended gay wedding "since before it was cool."
Reed has also received $15,000 from the Clayton investment firm Rockwood Management, $14,800 in in-kind donations from SCD Investments, $10,000 from Willert Home Products and $10,000 from the local union chapter of the firefighters union.
Editor's note: We updated this post at 8:20 a.m. to include an even more recent set of campaign finance reports for some candidates. This also involved updating the total contributions made by Louis Hamilton to Lyda Krewson. We regret any confusion.
We welcome tips and feedback. Email the author at sarah.fenske@riverfronttimes.com