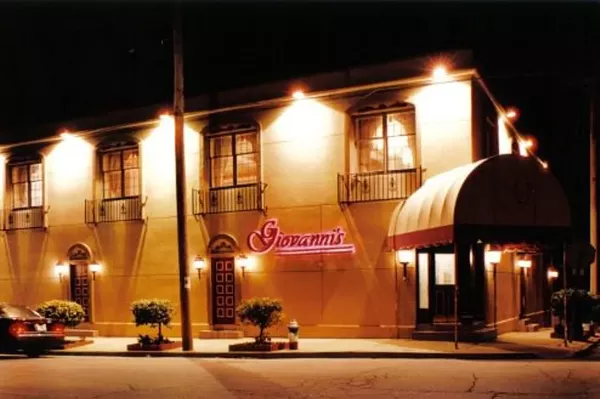 Giovanni's on the Hill,
one of the classiest restaurants in St. Louis
, burst into flames Wednesday afternoon. The one-alarm fire coincided with repairs being made to the venerable Italian restaurant's electrical system, though the cause of the blaze has not been officially determined.
According to the St. Louis Fire Department, electricians had been working for more than a week to install new wiring in Giovanni's. Two electricians and six restaurant staffers were on the first floor yesterday afternoon around 3:45 p.m. when someone smelled smoke coming from the second floor.
"They went to investigate up the rear stairs and discovered a decent amount of smoke," said Captain Garon Mosby, the department's public information officer. "They came back with an extinguisher; the smoke had increased, and they realized it was more than what they'd be able to battle on their own. They evacuated and called us."
When firefighters arrived, they encountered "a heavy volume of fire" on the second floor, Mosby said. The smoke can be seen in this Periscope video shared by the department on Twitter yesterday:
Thankfully, all eight people who were at the restaurant when the fire was detected were evacuated safely. Mosby also said that no firefighters were injured while suppressing the blaze.
Carmelo Gabriele, son of the restaurant's founder Giovanni Gabriele told the
St. Louis Post-Dispatch
that the restaurant "absolutely" would reopen.
Giovanni Gabriele was charged last month
with multiple crimes
related to allegations that he assaulted and sexually abused a security system representative.