Courtesy of Jeremiah Raber
The most sensitive part of any work boot? The boot-tip.
The local entrepreneur who invented Nutshellz, a Kevlar athletic cup
that can protect your manbag from gunshots
, is now deploying his armor-making techniques for a different set of vulnerable extremities: toes.
More precisely, Jeremiah Raber is targeting the toes of your steel-toed work boots. Normal wear-and-tear can crack the leather and leave the boots vulnerable to water, making them nay unwearable.
Raber, whose day job is with the St. Louis Metropolitan Sewer District, says the idea came to him six months ago while attempting to fix his own boots with an off-the-shelf repair kit, which amounted to smoothing paste over the compromised leather toe-cover.
"I had a gash in the front of my boot, and in the process, I was like, 'Oh man, why don't they have a Kevlar boot tip instead of this plastic junk?'" he says.
So Raber went out and bought himself a new pair of boots and, after some experimentation, fashioned new toe-covers from layered Kevlar.
And did Raber test the bulletproof boot-tip by shooting it? Of course he did.
"Imagine what the troops wear on their head, the Kevlar helmet," Raber says. "This is a scaled-down version for the foot."
In keeping with his somewhat sophomoric branding philosophy, Raber dubbed the product
Just the Tip for Boots
. So far, the boot tips can be found on the shelves in Chuck's Boots locations in Fenton and Overland.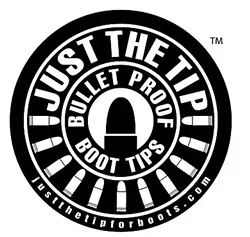 Subtle marketing isn't really Raber's forte.
In his past venture, Raber gained attention for his willingness to put his own body at risk to test his products. To demonstrate the Nutshellz cup, Rabor filmed himself
getting shot in the nads with a .22 long rifle
. (His nads survived.)
So we had to ask: Would Raber pit his two inventions against each other? A bulletproofed steel-toed boot against a bulletproof athletic cup? Wouldn't that be the perfect "unstoppable force vs. immovable object" test?
Raber laughs at the question.
"No," he says. He won't putting his boys on the line in that way. A disappointing answer, but who can blame him?
Follow Danny Wicentowski on Twitter at @D_Towski. E-mail the author at Danny.Wicentowski@RiverfrontTimes.com