PHOTO BY MICHELLE THOMAS
St. Louis women put on their best marching face in Accident, Maryland.
On Saturday, while tens of thousands of women marched through Washington, D.C.,
St. Louis
and a host of other cities around the world, a group of 51 women and three men marched through a town called Accident, Maryland.
They wore the now familiar pink "pussy hats" and carried the same kind of signs — Black Lives Matter, Love Not Hate. The only difference is that they were marching along the side of a highway in the heart of Trump Country, in a tiny municipality (population 325) that
Business Insider
recently
named the most conservative town in Maryland
.
They didn't choose the spot on purpose. No one would. You can't make up this kind of detail, but the travelers, who were almost entirely from St. Louis, were in Accident by accident. Owing to a series of calamities, mishap after mishap and a broken radiator hose, their chartered bus got stranded two and a half hours outside Washington, D.C. And once it became clear that they weren't going to make the march they'd each spent $125 to arrive at, they decided, "Why not march anyway?"
See also: Scenes from the Women's March in St. Louis
The entire trip was full of wrong turns — the driver was more than an hour late on Friday evening, and throughout the 30-hour journey, there were many, many (many!) other twists and turns, among them four different drivers and a bus driver so unprepared for tolls, he woke them to take a collection. Even the Burger King they tried to stop at on the way home ran out of meat.
Oh, and there was the moment when the same driver accidentally locked the bus, and couldn't figure out how to reopen it, leaving 51 people trapped in the bus and three women trapped outside it. Seriously, the women say, the number of things that went wrong was almost unbelievable.
All the while, the clock was ticking. They'd factored in plenty of extra time. But they'd been waiting at a gas station in Accident since 6 a.m., and then at a junkyard near an auto repair shop for hours after that, until it was 11 a.m. —and it was all too clear they simply couldn't get to D.C. in time.
PHOTO BY AMANDA MATHENIA
The organizers check in with their driver.
And even if they did somehow get there before the end of the march, how would they get home? Their driver was legally mandated to get a certain number of hours of rest after his night of driving. If they checked him into the hotel as promised, they'd be stuck for eight hours after that while they waited for their ride home, stranding them in D.C. until midnight.
Lindsay Toler, a communications director for a local startup (and former
RFT
staffer), says she couldn't help but break down at that point. "When people asked me why I was going to Washington, I told them, 'Because I'm a woman in Trump's America. That's enough of a reason,'" she recalls. "Society prohibits women from taking up too much space, from raising our voices, from making our suffering known. I got on that bus to defy the daily limitations we put on women's very bodies. So when the march started and I was still more than two hours away, the pain that poured out of me was a physical one."
Still, a consensus was reached almost immediately. There was no choice at that point but to march right there, in Accident.
"At first I was kind of numb," says Teresa Osborne, a registered nurse who made the trip with her sister. "But after everybody started getting up and getting signs, there was that burst of adrenaline. We were going to get up and get busy, going to get into this. Everything that went wrong didn't deter us from what we needed to do."
PHOTO BY MICHELLE THOMAS
Sisters Teresa Osborne (left) and Tara Taylor feel like their bus was stranded in rural Maryland for a reason.
The bus had been chartered by two St. Louis women,
a salon owner named Helen Petty and a PhD student named Beth Prusaczyk. Neither is a professional organizer, but when they heard about the Women's March on social media, they decided to take matters into their own hands. "We'll be strong badass women, and we'll do this," Prusaczyk recalls thinking.
The duo booked a bus through a company called U.S. Coachways. For roughly $7,000, they were told they'd have a bus that could seat 55 people. They easily found enough women (and those three brave men) to fill it, mostly through word of mouth and Facebook, and began to plan their trips.
But the problems began almost from the get-go on Friday evening — the bus that picked them up at the MetroLink station in St. Louis was more than an hour late and could only fit 54.
As they would later learn, so many women across the country all had the same idea, the nation's buses for hire were apparently at peak capacity. They decided to squish in, and when the bigger bus that was supposed to meet them in Indianapolis turned out to be a fantasy, their 55th member hopped on a different bus of St. Louis women traveling to the march, one that happened to be at the service station where they were refueling. They all felt sorry for her sacrifice at the time, but she was the only one in the group who made it to D.C.
Prusaczyk knows the travelers were disappointed. "There was some frustration; people wondered why we weren't just pushing forward," she says. But everyone kept their cool, and once the situation was explained, the women banded together rather than turning on each other.
Yes, there was some pushback as they marched from the people in Accident (or the people just passing through). Prusaczyk heard a group of men shouting, "This is a man's world!" over and over from the windows of their SUV. Tara Taylor, a registered nurse (and Osborne's sister), saw someone flip them the bird.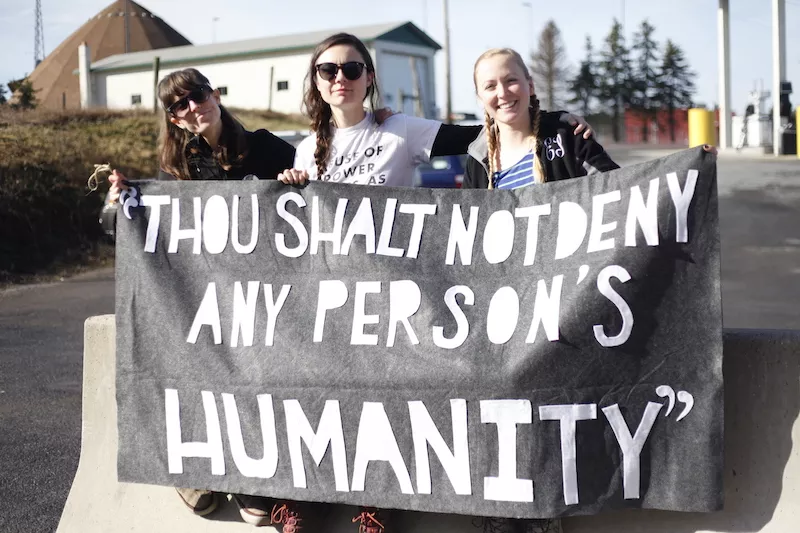 But they all agree, they felt good about marching.
Says Toler, "Here's what I learned: Yes, we're trapped, but we're also not alone. Yes, we're far from those we love and from anyone who can help us, but we're also together and capable of creating something beautiful out of whatever scraps we have with us. I learned that being trapped is not the same as being powerless."
The trip home was quieter, but a certain wry humor kicked in.
"We were joking that we're like those people who say they almost got to Woodstock," Prusaczyk says. "We have a separate story now."
And that story, in some ways, is an even more powerful one. Not only did they bond with each other — mostly small groups that were strangers to the others at the beginning, they left as old friends — but they believe they left their mark on Accident. (And that's not just the graffiti they "may or may not have left" in the ladies room, in Prusaczyk's words, to balance out the racial slurs and pro-Trump chicken scratch they initially found there.)
During those long hours in Accident in the 30-hour bus ride from hell, they talked to the women at the gas station and the restaurant on site. And they felt as if they'd found understanding. The people they encountered, even the bemused men at the gas station, couldn't have been nicer. Trump's America met Hillary's America, and everyone treated each other with respect.
"I was definitely nervous going in," Prusaczyk says. "But they tried their best to accommodate us. I have no doubt they'd never seen anything like it before."
Taylor wonders if someone in Accident gained a new perspective, or became more aware of the issues they were marching about. "Each one, teach one," she says. "It was our destiny to be there."
She adds, "So many positives came out of this, even though we didn't go to Washington."
Some women struggled more than others with the cramped quarters, the frustration of missing out. But they know there's a bigger narrative here.
Says Toler, "I keep telling myself not to lose sight of the reason why this was the trip from hell: On January 21, there was no such thing as an 'extra' bus or driver in the entire goddamn country. When we broke down, we were really and truly stuck. We had no contingency plan because there was no contingency, no spare person or transport to help us make it the final two hours. And I have to believe that's a sign of how successful and powerful the Women's March was. We were part of a mobilization so massive that there was no backup for bad luck." Let Trump inflate his numbers all his wants; the Women's March was indisputably huge. Huge enough to reach Accident, by accident, even as it set records nationwide.
As for the bus company, the organizers are demanding a full refund — and they intend to get it. They say they'll donate the entire $7,000 fee to Planned Parenthood.
See also: Scenes from the Women's March in St. Louis
Editor's note: A previous version of this story provided the wrong head count. There were 51 women and three men, not 54 women. We regret the error.

We welcome tips and feedback. Email the author at [email protected]