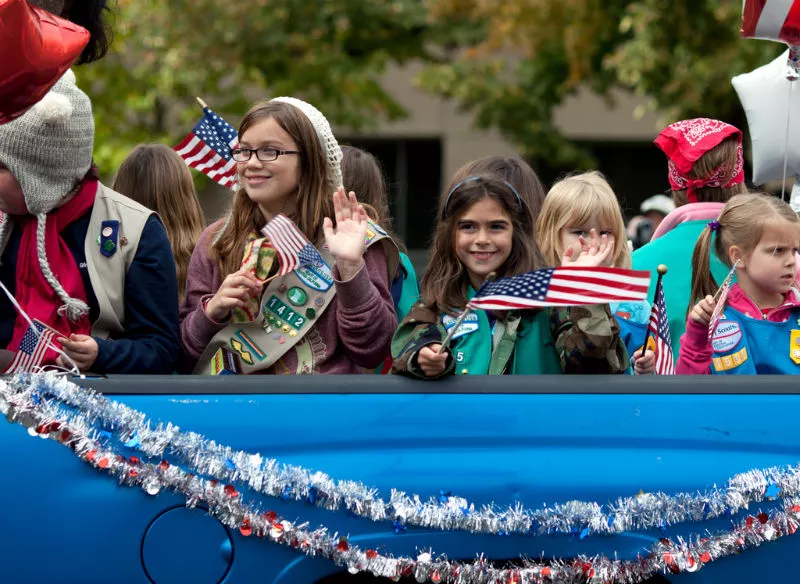 Photo courtesy of Flickr/Robert Couse-Baker
Will the Girl Scouts who march in Trump's parade be this happy?
When Donald Trump is sworn in as the 45th president of the United States this Friday, approximately 8,000 people will celebrate his new position by marching down Pennsylvania Avenue. But should the Girl Scouts be among them?
That question — like many surrounding Trump's presidency — is dividing the nation and, indeed, St. Louis. Late Monday night, the Presidential Inaugural Committee announced
the lineup
for the parade in Washington D.C., which will boast military bands, high school drill teams and community groups. But one organization on that list stuck out for many parents — Girl Scouts of the United States of America. Across social media, people locally and nationally
are wondering
: Why would an organization that promotes the empowerment of girls agree to celebrate a man who seems to treat women with contempt and is facing allegations of sexual assault?
"It's wrong. It's hard to support someone who is the opposite of what this organization is really about," says Angela Vincent, who served as a troop leader in St. Charles for six years under the Girl Scouts of Eastern Missouri.
Several local troop leaders and parents tell the
Riverfront Times
that Trump — who is the target of a number of lawsuits alleging sexual harassment and assault, including one filed just this week — does little to exemplify the values of the official
Girl Scout Law
, in which scouts promise to "be honest and fair," "be responsible for what I say and do" and "respect myself and others."
"He's an abhorrent human being, political parties aside. Call George Bush and George Bush Sr. what you will, but they didn't rant and rave about grabbing women the way Donald Trump has," Vincent says. "His personal history is the opposite of what the Girl Scout Law addresses. It sends the message that it's OK for a certain person — that their stature in society or the amount of money they have just gives them a pass."
Leadership at the national Girl Scouts organization
posted Wednesday
that approximately 75 scouts from the Washington, D.C., area will participate as part of a longstanding tradition of "engaging in civic action." Per the Girl Scouts blog post:
Being a leader means having a seat at the leadership table no matter what. It means being willing to work with whomever happens to hold political power. It means preparing girls not to run from the face of adversity, but to stand tall and proud and announce to the world, and the powers that be, that they are a force to be reckoned with, and that their needs, ideas, and views must be taken seriously. To do otherwise is to tell girls to sit down and be quiet—and that they don't count.
But does a seat at the table "no matter what" come off as tacit approval of an incoming president who has said disparaging things about women? Amy Garland, a current Girl Scout troop leader in St. Louis City under the Girl Scouts of Eastern Missouri, reads the national group's decision that way.
"I just feel like this is absolutely unbelievable and indefensible," Garland says. "If you're trying to promote a better, richer, more fulfilling life for girls and eventually women, how can he [Trump] be your example?"
Instead of watching inauguration weekend festivities on television, Garland, her young daughter and the rest of the family plan to participate in the
Women's March on St. Louis
, one of dozens of protest marches happening around the country.
"I think it might be a positive experience for them to see a bunch of people standing up for the kinds of things that they believe in," Garland says. "My older children were pretty devastated the day after the election. When I told them that we were going to the march on Saturday, they were excited and started thinking about what t-shirts they might wear or what they might write on a poster."
Amy Noakes, a troop leader in O'Fallon under the Girl Scouts of Southern Illinois, is trying to balance her own negative feelings toward Trump with the confidence that Girl Scouts has given her daughter and many other girls.
"Personally, I don't agree with it," Noakes says of the decision to celebrate the incoming president. "Trump is very much 'the man,' it seems to him that women should be in the background, and he's said so many bad things. I can't stand anything that he stands for. But the Girl Scouts have done too much good beyond this one bad thing, so I'm going to continue what my daughter loves to do. She's so excited to go to Girl Scouts."
The Girl Scouts of Southern Illinois emailed us the following statement:
Girl Scouts of the USA supports girls of every ideal, belief, opinion, and political ideology, because EVERY girl has a home in Girl Scouts. Our fundamental and foundational value is to provide girls the resources they need to take the lead. That means providing girls with the courage, confidence, and character to lift up their voices, champion their views, and be advocates for the issues and ideas important to them.
The Girl Scouts of Eastern Missouri made a similar statement:
Following established tradition, Girl Scouts from the Girl Scouts Nation's Capital council will be participating in 2017 presidential inauguration activities, including marching in the inaugural parade. Approximately 75 to 100 Girl Scouts will be led by Girl Scout Gold Award recipients who will be carrying the American flag, in addition to banner materials associated with the Girl Scout Movement. Presidential inaugurations are an incredible opportunity for girls to learn about the American democratic process and civic engagement, and to be eyewitnesses to history. Helping girls tap into their leadership potential and develop the courage, confidence, character, and skills they need to be leaders in their own lives and change the world is an indelible part of the Girl Scout mission. For 100 years, Girl Scouts have participated in presidential inaugural events as a way to gain invaluable insight into how our democracy works and learn about civic engagement from our national leaders.
"I understand the line they're giving about it being a tradition, if that's the case," admits Garland, who had planned to visit Washington had Hillary Clinton won the election. "But I do feel like this election is unlike any in recent memory and is so polarizing and so anti-woman that if I were in charge of making the call, I would not have them do it."
Though the national Girl Scouts organization says that it's leaving the decision to participate in the parade up to individual girls and parents, the troop leaders we spoke with suggest that the scouts are too young to question anything.
"I agree in one sense that it's a once-in-a-lifetime opportunity," Vincent says. "But I also think that five or ten years from now, the girls could look back on this and rightfully be disgusted with the situation."
Garland agrees.
"If I were them [Girl Scouts], I would distance myself from all of this," Garland says. "I'm not saying to participate in one of the marches or protests. Just spend that time doing something positive with your troop or family and not add to the pomp and circumstance for
him
."