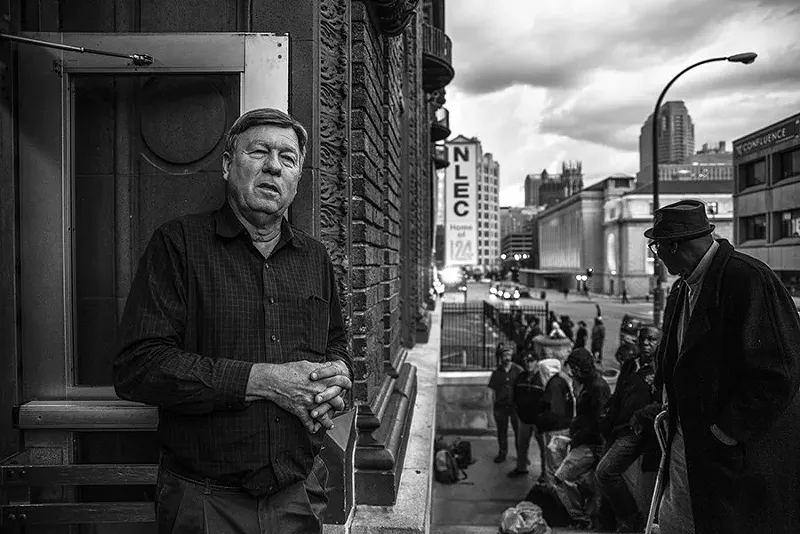 PHOTO BY NICK SCHNELLE
Rev. Larry Rice looks out the front door of the New Life Evangelistic Center as homeless men wait in line for potential beds for the night on November 14.
Rev. Larry Rice's homeless shelter isn't going down without a fight.
Ordered last week by the city to shut down on April 1, the founder of New Life Evangelistic Center vowed nevertheless to stay open.
"We're going to continue to pursue all angles, because all this is going to come out in the courts," Rice says.
On Thursday, the city Board of Building Appeals rejected New Life's bid to reverse a cease-and-desist order. Rice says he expected the decision and will now battle the city in state court, with an eye toward ultimately taking their case to federal court, arguing that running the shelter is a constitutionally protected exercise of religious freedom.
<!—————StartFragment—————>
See Also: As Downtown Weighs Its Homeless Problem, All Eyes Are on Larry Rice
<!—————EndFragment—————>
Rice has run New Life for more than 40 years near the corner of Locust and Fourteenth streets. In May 2015, a 32-bed hotel permit he was granted in 1976 was revoked following complaints from neighbors about crime and chaos. But the shelter kept operating, welcoming a nightly flood of people that sometimes tops 200 guests.
On November 9, just as an epidemic of synthetic marijuana or K2 overdoses hit encampments outside the New Life, the city issued a cease-and-desist order that gave Rice 30 days to close his doors or secure a new permit. The controversy was part of a
Riverfront Times cover story
the same month. <!—————EndFragment—————>
In rejecting his appeal of that order on Thursday, the board members agreed to delay the shutdown deadline until spring but offered no other concessions. They denied New Life's request for more time to fix building code violations, such as a missing range hood for a stove, that were issued back in 2015.
<!—————StartFragment—————>"The Board decided that the sixteen months since the citations were issued was sufficient time to address the violations," City Counselor Michael Garvin said in a statement describing the board's decision.
Absent intervention by a judge, that could spell the end of the region's largest walk-in shelter. To secure a new occupancy permit, New Life would need to collect signatures from a majority of neighbors. That's a tough task considering some of those same neighbors signed a petition to revoke the shelter's permit in 2015. But Rice says they've made progress with some residents and Washington Avenue business owners.<!—————EndFragment—————>
He's proven resilient, resisting long-running efforts to shut him down. He was already focusing on the courts by the time the appeals board decision was announced.
"In spite of recent News Reports, New Life Evangelistic Center is not shutting down April, 1st," New Life posted Friday on Facebook.
Rice previously sued the city in federal court in March 2015. The case, which made the religious freedom argument, was dismissed that fall. But he is optimistic.
"We're going to be working on injunctions," he says. "We'll actually be appealing to higher courts."
Editor's note: The name of Washington Avenue was corrected after publication.

We welcome tips and feedback. Email the author at doyle.murphy@riverfronttimes.com or follow on Twitter at @DoyleMurphy.