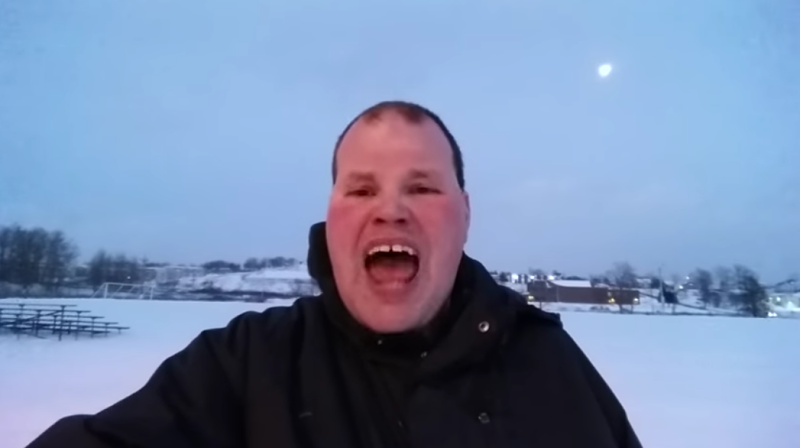 Screenshot from the video below
Nova Scotia's own Frankie MacDonald, amateur weatherman.
The greatest amateur weather forecaster in the world, Nova Scotia's Frankie MacDonald, has directed his attention to Missouri once more, warning of a "major winter storm" set to hit the state this Friday. The 32-year-old urges residents to "have your winter boots, winter jackets, hats, gloves, scarfs and ski pants ready." And, as always, "Order your pizzas and Chinese food and buy cases of Pepsi and Coke."
Since joining YouTube in 2011, MacDonald has racked up more than 23 million views with his near-daily weather reports directed at cities across the world. He also
warned Missouri of a major winter storm
coming to the area in March 2014, again encouraging his viewers to be sure to stock up on competing cola brands.
MacDonald's bellowed, rapid-paced delivery has earned him legions of fans worldwide — including some 45,000-plus followers on
Twitter
— and has even landed him a gig as "weather reporter in the field" for Calgary's X92.9 (CFEX-FM) radio station, despite the fact he lives more than 3,000 miles from that city.
MacDonald says the storm will particularly affect the cities of St. Louis, Springfield, Seymour, Kansas City and Jefferson City. He encourages viewers to "drink lots of green tea, white tea, red tea — drink lots of green tea to keep you warm."
In November, MacDonald
made headlines
after accurately predicting that an earthquake with a magnitude of "7 or more" would soon strike New Zealand. Within a month of his forecast, the country was rocked by a quake with a magnitude of 7.8.
In other words, dude knows what he's talking about. You'd be wise to stock up on Coke and Pepsi now.
Watch the video for yourself below: