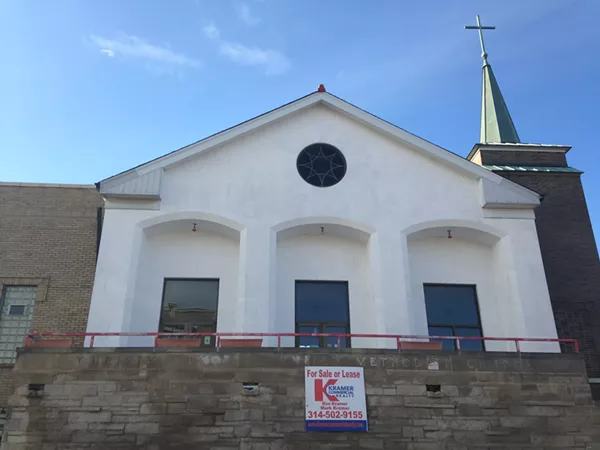 Photo by Doyle Murphy
The former home of Dojo Pizza is for sale.
Looking to buy an old church with a sketchy past? The former Dojo Pizza property is for sale.
Once the home of karate instructor Loren Copp and a shifting number of teenage girls, the 24,000-square-foot building at 4601 Morgan Ford Road includes a vaulted sanctuary, gymnasium, commercial kitchen and a string of classrooms that were most recently used as bedrooms.
The asking price is $199,000
.
Copp, who is now awaiting trial on federal child porn charges, was forced to vacate in October 2015 after St. Louis police and federal agents raided the place, which Copp used as his home, a karate studio and a pizzeria called Dojo Pizza. A city building inspector found more than three dozen code violations and condemned the property.
Six months later, in April 2016,
Copp was arrested
after a search of hard drives seized from the church turned up images of hardcore child pornography, authorities say. Some of the photos show the torso of a man, identified as Copp by an underage victim, according to prosecutors for the U.S. Attorney's Office.
After the arrest, the city seized the building, saying Copp's nonprofit Ma-ji Ryu Christian Karate Association owed $13,940 in back taxes, according to the city assessor's online records.
The building and two adjoining parcels were then sold in August at a sheriff's auction for a total of just $35,714, officials say.
The old Dojo Pizza banners on the side of the church have long been torn away, and the property is now for sale again. A sign for Kramer Commercial Realty is fixed to the front.
An online listing describes the property as "former church" and "community center." (Kramer did not respond to requests for comment.) The building needs a few repairs, according to the ad. It is being sold "as is."
It's worth noting the Dojo Pizza case doesn't have any connection to #pizzagate,
the fictional child sex trafficking conspiracy that led one true believer to fire a gun inside a Washington, D.C., pizzeria
. Yet a number of conspiracy theorists linked the two in social media posts and even contacted the
Riverfront Times
while mining for ties to the St. Louis case.
The #pizzagate furor has finally begun to die down. Even the misinformed gunman in Washington, D.C. now
admits his "intel on this wasn't 100 percent.
"
Copp, who once claimed he was
the victim of a law enforcement conspiracy
, is still locked up. His attorney has requested more time to analyze evidence in the case.
Image via kramercommercialrealty.com
Screenshot of the Kramer Commercial Reality listing for the old Dojo Building property.
We welcome tips and feedback. Email the author at doyle.murphy@riverferonttimes or follow on Twitter at @DoyleMurphy.