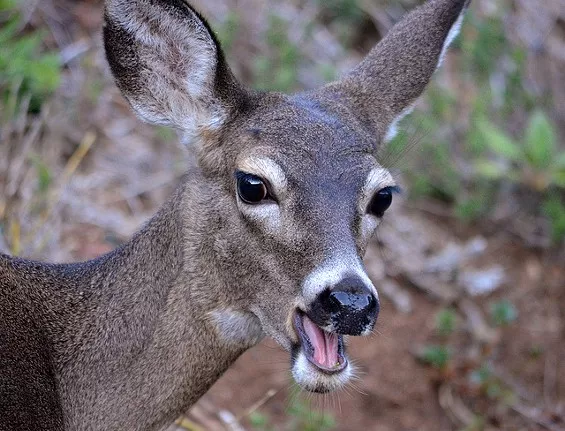 A former Town & Country councilman is organizing a vigil tonight to call attention to the 225 deer that will be killed in the St. Louis suburb this month.
Al Gerber, who served on the council from 2010 and 2012 and later ran for the state legislature, says he hopes to raise awareness about the problem — and urge the city council to consider other solutions. The vigil will coincide with the start of tonight's city council meeting.
The suburb has long been plagued with a large deer population, leading to frightening collisions on the roadways, denuded vegetable gardens and hungry deer.
Gerber says he acknowledges that Town & Country has a deer problem.
"I'm not totally unrealistic," he says. "I realize something has to be done, and that something may involve killing." But where he splits with his former colleagues is that he believes that sterilizing deer needs to be at least one component of the city's plan — in part, he says, because culling alone simply does not work over time.
Gerber, who has a Ph.D in mathematics, argued during his time on the council that, while sterilization was more costly on the front end, it would actually save money over time.
It can cost $1,200 to sterilize a deer, and just $300 to hire a professional to kill one, he acknowledges. "But if you sterilize a deer, that's fourteen or fifteen offspring you don't have to kill," he says. "There's a huge savings to do that." Plus, he notes, after a cull, deer populations tend to have more babies to fill the void.
Gerber believes he's been proven right in the years since the culls began; every year, deer continue to need culling, despite the best work of the Connecticut company brought in to the handle the extermination. Town & Country spent $474,000 on "deer management" from 2008 to 2016, with another $104,000 budgeted this year, he says. And that number has only increased in recent years — since car accidents involving deer aren't dropping, the municipality has seen fit to escalate its program. Gerber says 225 deer are slated for extermination this year.
The vigil will be held at 1100 Municipal Center Drive from 6 to 7 p.m. Anyone interested in the problem is urged to attend.