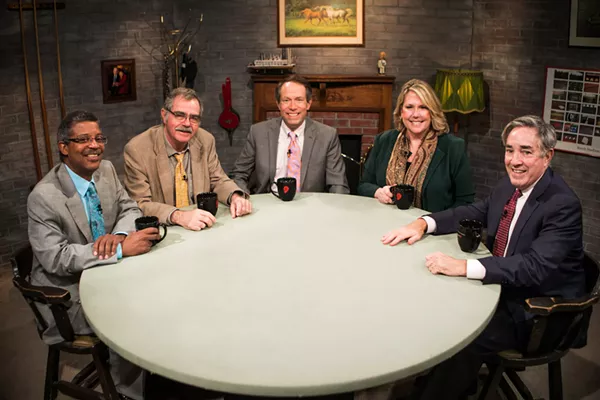 Courtesy of Nine Network / Jason Winkeler Photography
From left: Alvin Reid, Bill McClellan, Charlie Brennan, Wendy Wiese and Ray Hartmann.
Tomorrow, St. Louis' public affairs talk show
Donnybrook
celebrates its 30 year anniversary. That's something to celebrate.
It's also something to marvel at. In the age of Instagram and insta-celebrity, what lasts ten years, much less 30? Even
Law & Order
made it a mere two decades, even if it still has a spinoff chugging along.
And
Donnybrook
continues to generate conversation even though the weekly program shows its age in very real ways. Its beloved founder and original provocateur, the late
Martin Duggan
, retired seven years ago, while its set, which hasn't changed in 28 years, somehow manages to look at least 35 years out of date. These days, none of its panelists, which include original panelists Ray Hartmann (the
RFT
's founder) and longtime
Post-Dispatch
columnist Bill McClellan, need ever fear being accused of youthful inexperience. There's a reason its longtime sponsor, the Gatesworth, is in the senior living business.
Yet
Donnybrook
succeeds as must-see TV, 30 years after it first premiered on KETC (Channel 9), not in spite of those retro qualities but because of them. At a time when everyone is shouting at each other, the panelists on
Donnybrook
talk. And while cable news pundits today are all sleeker and blonder than porn stars, the panelists on Donnybrook are reporters, writers, editors, radio people. Their ink stains show; so do their idiosyncratic ways of looking at the world. They haven't been cast to fill demographic niches; they've been cast because they're news junkies and think about things in interesting ways.
And they like each other! The camaraderie you see on TV isn't just for the cameras, says Anne-Marie Berger, the show's longtime director. It's woven into the fabric of the group. "Martin always said that," she says, quoting Duggan: "You can see each other's point of view without being swayed by it." After the show, they typically get a drink together — even if their longtime haunt, Humphrey's, did recently close. ("They're shopping around" for a new spot, is all Berger will say on that subject — and rightly so. You never know the lengths we
Donnybrook
superfans will go to join the discussion.)
In a taped interview celebrating the show's 30 years, set to air tomorrow night as part of a special anniversary package celebrating its milestone, McClellan recalls his low expectations at the show's beginning. At first
Donnybrook
was just a one-off, but then the higher-ups at KETC liked it and ordered a few more.
With that small flush of initial success came a note from the suits. "They wanted me to wear a sport jacket, but at the time I didn't have one," he recalls. "And I thought, 'Do I really want to buy a sport jacket for a show that's not going to last six weeks?'"
Part of the fun of Donnybrook is
seeing a group of veteran journalists discuss the news, almost as if you're at Humphrey's with them, listening in as they grapple with the issues of the day.
Another part of it, surely, is how constant it feels. Yes, Duggan is gone (and older St. Louisans mourn his tenure still). But for those of us who started watching more recently, watching the longtime panel feels as familiar as observing our relatives bicker about politics over post-Thanksgiving coffee. There's joy in that.
When Duggan retired, he hand-picked KMOX's Charlie Brennan as his successor, and the radio host does an admirable job of keeping the TV conversation lively. "Charlie had big shoes to fill, and he's more than filled them," notes Berger. His title may be provocateur, but he's really there to keep things moving, to draw out the most interesting panelist on any given topic, to do a double take when someone offers a far-out opinion.
Hartmann, of course, is the most progressive, while Wendy Wiese, a veteran radio journalist who currently hosts a nationally syndicated show sponsored by the Catholic church, is the most conservative. Alvin Reid, formerly the city editor of the
St. Louis American
and now a contributor to
St. Louis Magazine
, can be a wild card — surprisingly conservative on some points, left-leaning on others. And McClellan remains inimitable; the true joy of
Donnybrook
many weeks is seeing how his brain works, the way what might be a doctrinaire left vs. right issue suddenly becomes a lot more intriguing simply because of the angle from which he approaches it. Guest substitutes come and go — in the last year,
Stacy Washington
has been a breath of fresh air in increasingly frequent fill-in appearances — but an episode featuring the full panel of regulars still feels like a treat.
That the quintet remains so interesting is all the more impressive when you think about just many conversations they've had, in a relatively slow news town. It's a matter not only of years, but of the week-in, week-out taping schedule. Berger notes that they'll take off Thanksgiving, and sometimes Christmas depending on how the dates on the calendar fall. Last year they had to take off two weeks for the political conventions. But that's about it. "We do 49 to 50 shows a year," she notes.
As the show's director for sixteen years, Berger maintains that grueling schedule herself — this morning, she was taking time to finish up a few things for the anniversary broadcast and take a call from a reporter, even though she just gave birth to her second child on, yes, Sunday. But even if the shows do sometimes run together a bit (she can hardly believe they're
again
debating whether the city should subsidize a sports stadium, even if it is for soccer this time), she finds that routine a comfort, not a grind.
Berger remembers with a laugh the way that viewers used to complain that
Donnybrook
panelists argued too much, that someone had talked over someone else. That thought seems positively medieval by now. They almost certainly don't argue any less than they used to; it's the world around them that's gotten angrier.
"I've had a lot of deep reflection in the last year with how things have gone," she says. "With the media, with politics, with how people communicate with each other. And I've thought about what we're trying to do, and I've realized that maybe you can look at it as you can really disagree with people, but you don't have to dislike each other. It's good to have an open dialogue — especially now."
And so tomorrow night those five opinionated people will take the stage in front of that ridiculous 28-year-old faux-brick backdrop. They'll talk about the news. They'll argue. They may even interrupt each other.
But they won't shout. And as much as they talk — and boy, can they talk — they'll also listen. And these days, 30 years after
Donnybrook
started the conversation, that may be the biggest achievement of all.

Sarah Fenske is the editor in chief of the Riverfront Times. Follow her on Twitter @sarahfenske or email her at sarah.fenske@riverfronttimes.com