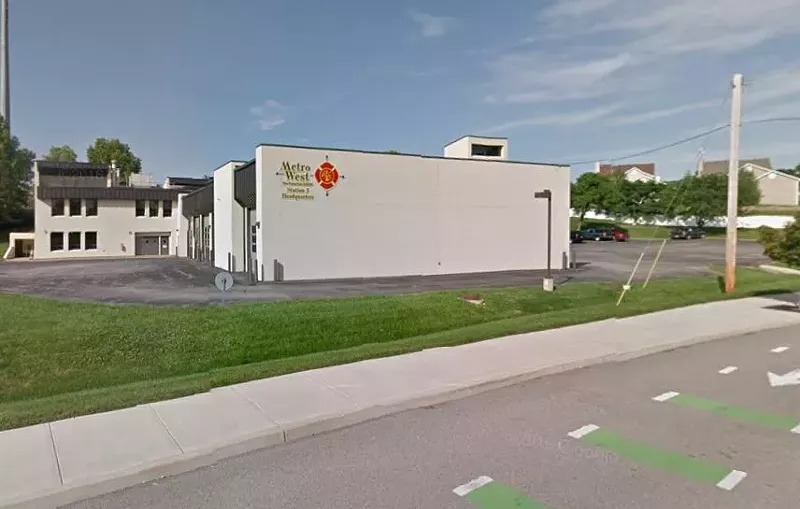 Image via Google
A thief stole a maintenance truck on Tuesday from the Metro West Fire District station in Wildwood, police say.
Update 10:02 a.m.: St. Louis County police say the fire department's truck has been found near Interstate 64 and Winghaven Boulevard by the Missouri State Highway Patrol. A 36-year-old man has been arrested. The original story is below.

A would-be carjacker on the run from police escaped in an unlikely getaway vehicle — a fully marked maintenance truck from a Wildwood fire house.
The bizarre crime spree began Tuesday night, according to St. Louis County police. The man was wandering around a car lot about 8 p.m. in Eureka and told the owner to give him the keys to a vehicle, Eureka police say. When the owner refused, the man reportedly took off on foot.
"My understanding is he had his hand in his coat as if he had a gun, made some verbal threats and then ran away," Eureka police Lt. Dave Wilson says.
Apparently, the vehicle he ran to was one he'd stolen earlier: a catering company's van. Less than an hour later, he pulled it into the parking lot of the Metro West Fire District's station at 17065 Manchester Road, police say.
His timing was good. Firefighters and EMS personnel were out on a call, and he found the maintenance truck unattended. Police say the man dumped the catering van, which had been hotwired, and took off in the fire district's truck.
County police learned of the stolen truck about 8:40 p.m. and distributed a description on Wednesday morning.
"This thing should stand out pretty well," St. Louis County Police Officer Benjamin Granda says.
The 2005 Dodge Ram four-door is white with Metro West Fire District decals and blue and yellow stripes on the driver's and passenger's sides. "Maintenance" is printed across the tailgate. The license plate is 3362.
Police ask anyone with information to call them at 636-529-8210 or CrimeStoppers at 866-371-TIPS.
We welcome tips and feedback. Email the author at doyle.murphy@riverfronttimes.com or follow on Twitter at @DoyleMurphy.