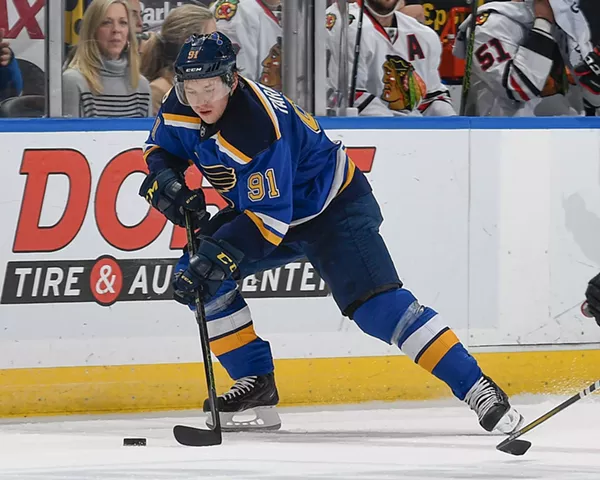 ©Scott Rovak/St. Louis Blues
Vladimir Tarasenko
For the next thirteen days, St. Louis becomes the epicenter of the hockey world. There will be more games played in this span than in the entirety of the Olympics. Many of them will be played by enthusiastic kids and amateurs, two will be played by retirees, and one will be the biggest professional game of the year outside of the Stanley Cup playoffs — but all of them take place in St. Louis. Rejoice in the splendor of the NHL Bridgestone Winter Classic, the eye of a hurricane of hockey that swirls around our town beginning this week and lasting until early 2017.
Here are all the highlights.
Heartland of Hockey Holiday Classic
The day after Christmas, hockey parents of the region will drive their young skaters to various rinks to commence the Heartland of Hockey Holiday Classic. Don't turn your nose up at kids hockey — there's nothing like watching nine-year-olds do the swooping-fist-pump/falcon-punch-to-the-sky after they score a goal. This youth hockey tournament runs from Monday to Friday (December 26 to 30), with the Hardee's Iceplex (16851 North Outer 40 Drive, Chesterfield; www.hardeesiceplex.com) acting as the hub rink for most of the games. (Additional games are played at the St. Peters Recplex and the Ice Zone at the Mills.) All of these games are free and open to the public. Visit www.hockeyintheheartland.com for more information.
Winterfest at the Arch
The St. Louis Blues and the CityArchRiver Foundation have arranged for a temporary ice rink to be installed in Luther Ely Smith Square (North Fourth and Market Streets; www.archwinterfest.com). This synthetic ice rink feels just like ice under your skates, but won't melt when St. Louis undergoes the inevitable violent weather-based mood swing. It will be open from 11 a.m. to 8 p.m. daily (December 27 to January 8), with music and food vendors on site. A number of special events are also planned, including a family-friendly New Year's Eve celebration and a street hockey tournament for kids (ages seven to twelve) on New Year's Day. The Blues will also have certified coaches and alumni teaching kids hockey basics during two days (December 29 and 30) of Try Hockey for Free sessions before the rink opens to the public. Come out to skate in the shadow of the Gateway Arch; skate rental is just $7 to $12.
The PreGame
The Winter Classic is a big deal in the hockey world, which explains why it enjoys a three-day pre-game party. The official PreGame takes place from 9 a.m. to 1:30 p.m. Saturday, noon to 4 p.m. Sunday and 9 a.m. to noon on Monday (December 31 to January 2) at Ballpark Village's parking lot A and B (601 Clark Avenue). You can step into the crease and test your skill at stopping pucks in the interactive hockey game, snap some wrist shots into a washer and dryer and pose for photos in three spots that sound utterly intriguing: Reebok's augmented reality photo booth, a recreation of the NHL Network's broadcast booth, and the "Velveeta Liquid Gold Snow Globe" (yes, really). Finally, the party ends and the pre-game begins in earnest at 10:30 a.m. on Monday, when Nelly performs his greatest hits. Vendors will be selling food and drink and official Winter Classic merchandise all three days.
Alumni Game
One of the greatest traditions of the Winter Classic is the Alumni Game, which sees two teams of fan favorites return for a mostly friendly but still competitive game. The Blues Alumni team is stocked with a ridiculous amount of talent. Brett Hull and Adam Oates are reunited at last in St. Louis sweaters, the legendary Bernie Federko will work his wizardry again — perhaps on a line with Keith Tkachuk and Scott Young — both Gino and Paul Cavallini are lacing them up, and the all-time greatest player in NHL history, Wayne Gretzky, will add a nineteenth game to his St. Louis tenure. The defense might be illegal — Al MacInnis, Chris Pronger, Garth Butcher, Barret Jackman, Bryce Salvador and Bruce Affleck will be protecting goalies '80s mainstay Ed Staniowski, future Hall of Famer Martin Brodeur and the brilliant Mike Liut. Keep an eye out for former Blues grinder Jamal Mayers, who will unfortunately be on the Blackhawks alumni team, but at least he's here. The game takes place at 1:30 p.m. Saturday, December 31, at Busch Stadium (Broadway and Poplar Street; www.stlblues.com), and it will be broadcast live on Fox Sports Midwest and KMOX 1120-AM. Tickets, unfortunately, are sold out.
NHL Bridgestone Winter Classic
This is it. As a 50th birthday present, the St. Louis Blues host the 2017 NHL Bridgestone Winter Classic. It officially counts in the standings as only one of 82 games, but emotionally it means so much more. From the team's lowest point — when the Blues didn't send a representative to draft anyone in 1983 and the team was almost sold and moved to Saskatoon, Saskatchewan — to today, only 34 years have passed. There have been President's Trophy-winning seasons, and there have been lean years when the team skidded along the bottom of the standings. But there's been nothing like this. The current ownership group, headed up by Tom Stillman, has rebuilt the team and reengaged with the fans to the point that it feels like these are the glory days. Today, all of that history shines a little brighter in the glow of the Winter Classic. St. Louis earned this, just as all good things in hockey are earned: through hard work, determination and guts. The St. Louis Blues take on the Chicago Blackhawks one more time at noon Monday, January 2, 2017, on a specially constructed outdoor rink at Busch Stadium (Broadway and Poplar Street; www.stlcardinals.com). The game is sold out, but will be broadcast live on NBC and KMOX 1120-AM.
One Nation Classic Closing Ceremonies
The NHL Bridgestone Winter Classic closes with one final day full of hockey and surprises. At 11:30 a.m. Sunday, January 8, at Busch Stadium (Broadway and Poplar Street; www.stlcardinals.com) the Blues players will engage in a skills competition. St. Louis' Greatest Pick-Up Hockey Game takes place at 1 p.m., with Blues owner Tom Stillman and Cardinals big bird Bill DeWitt III captaining a game between Blues and Cardinals alumni; it should be interesting to see who on the Cards' team can skate, let alone skate backwards. Those captaincies are not just ceremonial. Both DeWitt and Stillman partake in a weekly skating session, so don't be surprised if they end up on the scoreboard. Immediately after the Blues-Cards game, a team of police officers and a team of firemen take the ice for a third and final game. Admission is only $10, and proceeds benefit Blues for Kids youth hockey programs and Cardinals Care.