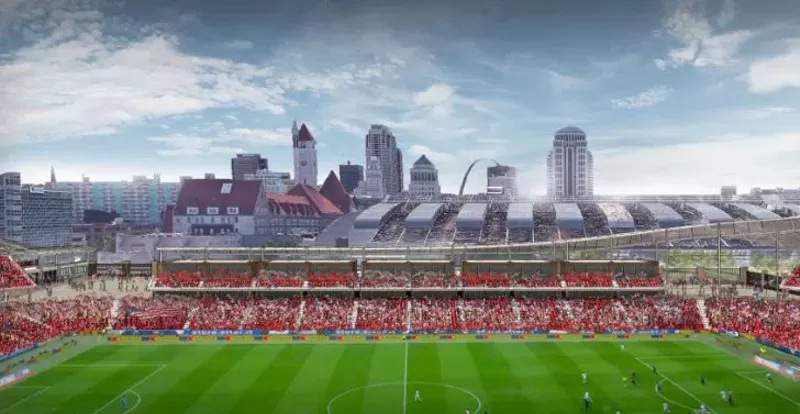 Rendering courtesy of HOK
In the wake of
getting blasted by Governor Elect Eric Greitens
, the ownership group behind the proposed professional soccer stadium in St. Louis now says it's temporarily halting its push to obtain $40 million in state tax credits.
<!———StartFragment———>The total cost of the proposed Major League Soccer stadium is estimated at
around $200 million
. Although MLS hasn't yet officially awarded St. Louis an expansion franchise, the local ownership group, SC STL, has gained the support of the league's front office and St. Louis Mayor Francis Slay.
But here's the rub: Public funding factors heavily into the stadium plan. SC STL was scheduled to appear this morning before the Missouri Development Finance Board to request $40 million in state tax credits.
The group is seeking another $80 million from St. Louis city
, a matter that will likely appear on the city's ballot during the April municipal elections.
On Monday morning, Greitens launched a surprise Facebook attack on the project, issuing a statement that echoed the former Navy SEAL's campaign promise to shake up Jefferson City. He called SC STL's plan "welfare for millionaires."
"Right now, because of reckless spending by career politicians, we can't even afford the core functions of government, let alone spend millions on soccer stadiums," Greitens wrote. "This type of back-room wheeling and dealing is exactly what frustrates Missourians. It's politics as usual, and it ends now."
Apparently, the governor elect's statement caught SC STL off guard. In a prepared statement emailed to reporters this morning, SC STL chairman Paul Edgerley announced that the group would be postponing its meeting with the state finance board until its representatives could meet with Greitens in person.
"While we were disappointed in the statement yesterday by Governor-Elect Greitens, we respect that he and others may differ from our views," Edgerley said. "Given current developments, we are postponing our scheduled meeting with the MDFB this morning so that we can personally meet with Gov. Elect Greitens in the days ahead to gain a complete understanding of his position and fully brief him on the project and the benefits it affords to the State of Missouri."
The delay can't be good news for the ownership group, which will probably also face a steep challenge in convincing St. Louis residents
to approve a sales tax hike to fund construction costs
. With Greitens now opposing public funding, it's fair to wonder if that vote could be moot long before the April election.
Follow Danny Wicentowski on Twitter at @D_Towski. E-mail the author atDanny.Wicentowski@RiverfrontTimes.com