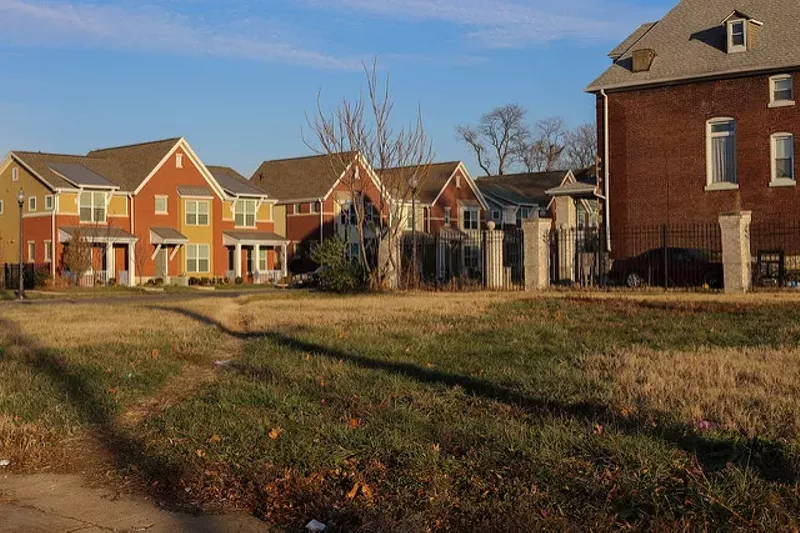 Photo courtesy of Flickr/Paul Sableman
Infill housing in the city's Vandeventer neighborhood.
St. Louis city' median household income rose 6.3 percent from 2014 to 2015, according to
newly released data from the U.S. Census Bureau
— a bigger increase than shown in the U.S. as a whole, as well as either St. Louis County or St. Charles County.
Both Missouri and the U.S. saw household incomes increase 3.9 percent during that time, Census Bureau data shows. Closer to home, St. Louis County showed a two percent increase, while St. Charles County was almost perfectly flat, with incomes dropping less than one half of one percent.
courtesy of U.S. Census Bureau
And poverty rates within the city limits also took a sizable plunge — dropping from 28.8 percent in 2014 to 25.5 percent, the data shows. That's a much bigger decrease than shown by either the nation as a whole or the state: Both Missouri and the U.S. began with a 15.5 percent poverty rate, and both decreased less than a percentage point (0.8 for the nation and 0.7 for the state).
While the county's poverty rate is significantly lower than the city's, it showed a slight increase from 2014 to 2015, rising 0.7 percent to 10.3 percent, according to the Census Bureau data.
Maggie Crane, a spokeswoman for the city of St. Louis, says that she was not aware of the latest dataset, but is not surprised by it. "I am encouraged by it," she says.
"It makes sense with all these things coming together," she says. "We've worked to make this happen." She points to everything from Arch Grants, which provides entrepreneurs with startup funds and mentorship to the Choice Neighborhood grant recently awarded to the city's near north side.
And she also took the opportunity to plug the half-percent sales tax expected to be on April ballots. "All this stuff is moving in the right direction," she says. "If the half-cent sales tax passes, it gives us a lot of leverage to very methodically and thoughtfully focus on the main streets of every neighborhood."
For the U.S. Census Bureau's interactive dataset, which served as the source of these numbers and graphs,
check out its website
.

We welcome tips and feedback. Email the author at sarah.fenske@riverfronttimes.com