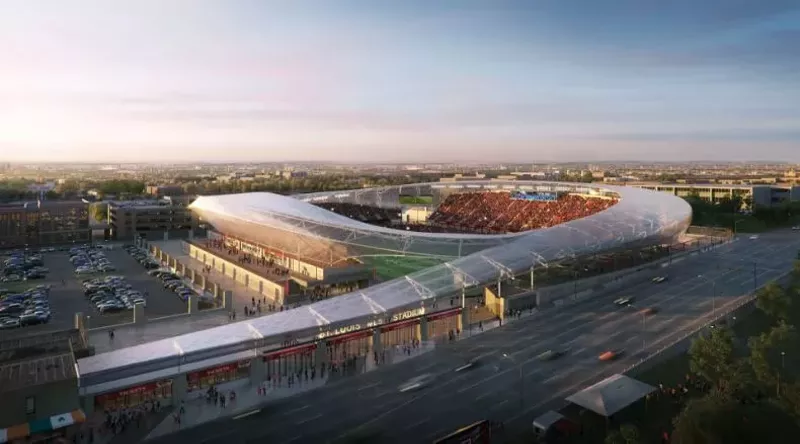 Rendering courtesy of HOK
How much public money is worth spending on an MLS stadium?
As the St. Louis Board of Aldermen begins to weigh a tax plan to underwrite a new stadium for professional soccer, Governor Elect Eric Greitens weighed in this morning with strong words opposing the project.
"This type of back-room wheeling and dealing is exactly what frustrates Missourians," he wrote in a
Monday morning Facebook post
. "It's politics as usual, and it ends now."
Here's his complete statement:
I'm opposed to spending taxpayer money to build a soccer stadium in St. Louis. This project is nothing more than welfare for millionaires. Right now, because of reckless spending by career politicians, we can't even afford the core functions of government, let alone spend millions on soccer stadiums. This type of back-room wheeling and dealing is exactly what frustrates Missourians. It's politics as usual, and it ends now.
That opposition to public financing — if shared by other city residents — could kill any stadium deal. Major League Soccer Commissioner Don Garber made it clear in a conference call with reporters last week that if St. Louis wants a professional soccer team, taxpayers need to cough up some public money. Consider it, he said, a "referendum."
"The St. Louis ownership group needs to determine whether or not the public support exists," Garber said. "I think the question as to whether or not they remain an expansion candidate would probably be a question for them, much more so than for MLS if they don't get the public vote."'
But the question of whether it's worth providing tens of millions of dollars in public money to an ownership group comprised of fabulously rich businessmen is still up in the air. The ownership group, SC STL, has put a $405 million price tag on the proposal to establish an MLS expansion team in St. Louis. When the plan was
unveiled
last month, SC STL touted its willingness to cover the expected $200 million franchise fee imposed by the league on new teams. Of the remaining $200 million or so, SC STL is asking for $80 million in city taxpayer money — which would require a public vote in April — and $40 million in state tax credits. Whatever costs remain will presumably come out of ownership group's pockets.
During last week's conference call, however, the MLS' Garber shared information that threw those calculations into a new light. Garber said that the next two teams to join the league in 2020 will instead pay a franchise fee of around $150 million — $50 million less than SC STL's previous estimation.
But if St. Louis makes the cut to join the league — a decision expected later in 2017 — don't expect SC STL to use that seemingly "extra" $50 million to reduce the burden on city taxpayers. When SC STL vice chairman Jim Kavanaugh was asked if the lower franchise fee would decrease the ownership group's request for $120 million in city and state money, he responded, "No, it does not."
"It's still quite a significant franchise fee," Kavanaugh said, according to the
St. Louis Post-Dispatch
. Kavanaugh also pointed out that SC STL is already on the hook for construction cost overruns and maintenance for 30 years.
Kavanaugh, the local owner of the Saint Louis FC soccer team, has touted SC STL's commitment to putting a professional soccer team in St. Louis
and keeping it there
. That the ownership group is backing a public vote on the April municipal ballot also
stands in contrast
to the way things played out during the 2015 bid to keep the Rams in St. Louis with a $1.1 billion stadium. (
How about those Rams, by the way?
)
But voters will have to reckon with the fact that SC STL apparently believes it is entitled to $120 million in city tax funding and state tax credits, regardless of where the eventual franchise fee lands. And that could give voters pause as they consider the April ballot.
The future of the MLS in St. Louis will come down to two board bills introduced to the city's Board of Aldermen on December 14. The first,
Board Bill 227
, asks voters to approve a one-half cent sales tax increase. The proceeds, estimated at more than $20 million annually, would fund a North-South MetroLink line, neighborhood revitalization programs and infrastructure improvements, among other things.
None of that money is slated for a soccer stadium. But if BB 227 passes, the sales tax hike would be accompanied by an increase in the city's "use tax," which is the equivalent of a sales tax that businesses pay on out-of-state purchases. And what should we do with the revenue generated by the use tax increase — hey, how about an MLS stadium?
That's the gist of the second bill introduced last week at the board,
BB 226
, which would place another question on the April ballot. Voters will be asked to approve designating the proceeds of the use tax increase to fund the stadium — and if voters turn the stadium project down, the new use tax revenue could be used on other city needs. (Even if the bill is passed, it stipulates that the stadium construction "is contingent on an MLS commitment to bring a professional soccer team to the City.")
The two bills were introduced by 6th Ward Alderwoman Christine Ingrassia, whose ward contains the proposed stadium. Ingrassia's stadium bill will likely face face opposition from the likes of 15th Ward Alderwoman Megan Green and 21st Ward Alderman Antonio French. Last week, French told
KMOV (Channel 4)
that he thinks packing the April ballot with tax increases would be a "disaster."
"You can have real priorities get rejected because you asked for too much at the same time," French said.
In order to make the April ballot, the Board of Aldermen need to approve both board bills and Mayor Francis Slay must sign them by January 24.
Follow Danny Wicentowski on Twitter at @D_Towski. E-mail the author at Danny.Wicentowski@RiverfrontTimes.com