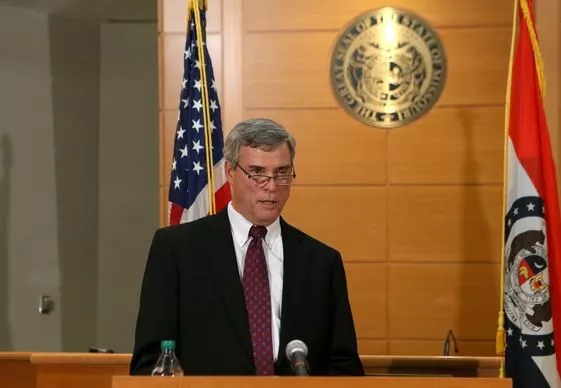 Robert McCulloch wins a legal victory.
A grand juror who was part of the panel that decided not to indict Ferguson Officer Darren Wilson will not be permitted to spill the beans.
That's according to a ruling from St. Louis County Circuit Judge Ellen H. Ribaudo, who this week dismissed a lawsuit filed by "Grand Juror Doe" against Prosecuting Attorney Robert McCulloch.
The juror, who was part of the county probe into the death of Michael Brown in Ferguson, had sued last January, claiming that the grand jury's order of secrecy deprived jurors of their First Amendment rights. Originally filed in federal court, the suit was later refiled in Missouri court.
In a 14-page ruling Judge Ribaudo notes that the anonymous juror acknowledges twice swearing an oath of secrecy, but argues that she should now be released from oath. However, the judge concludes, "While Plaintiff may now regret having sworn her oath and accepted her charge, the circumstances identified by Plaintiff are not a sufficient basis upon which to release Plaintiff from her obligation to maintain secrecy."
The judge notes, "Complete transparency is anathema to the very nature of a grand jury, which depends upon secrecy and anonymity for its proper functioning."
The ACLU of Missouri had been representing the grand juror. It is not yet clear whether they plan to appeal. But for now, it looks like everyone wondering what really went on in that grand jury room may be out of luck.
We welcome tips and feedback. Email the author at sarah.fenske@riverfronttimes.com