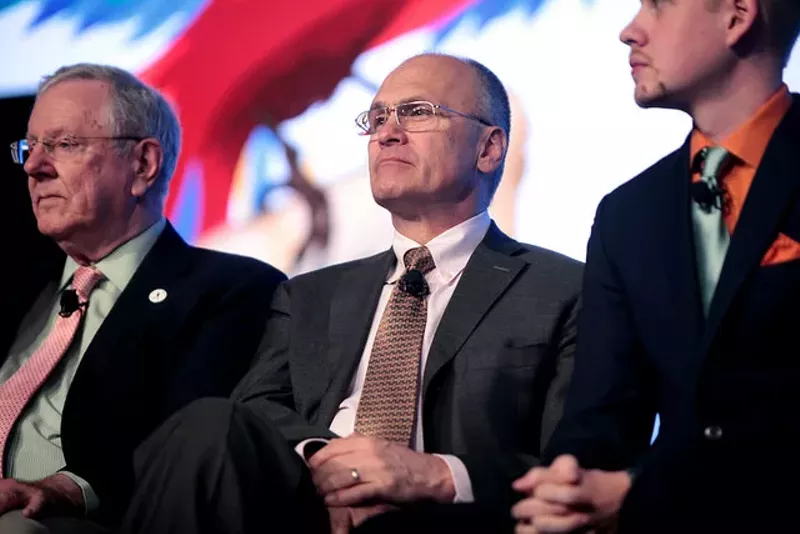 Photo courtesy of Flickr/Gage Skidmore
Andrew Puzder, speaking at the 2016 FreedomFest in Las Vegas.
Andrew Puzder, the St. Louis attorney who rose to become CEO of Carl's Jr. and now stands as Donald Trump's pick to be Secretary of Labor, was accused of abuse by his first wife in the 1980s — with police twice summoned to the couple's home.
The allegations were first aired in the couple's 1989 divorce. The abuse allegations in the divorce filings then became the subject of a July 26, 1989,
Riverfront Times
cover story.
Puzder denied the abuse both in a deposition for his divorce and in the
RFT
's story, calling his ex-wife Lisa Henning's allegations "baseless."
"There was no physical abuse at any point in time," he told the
RFT
.
In her divorce filing, Henning alleged that Puzder hit her, threw her to the floor and unplugged the phone after she tried to call the police for her help. Puzder would later acknowledge in a deposition that he "grabbed her by the shoulders and pushed her back," but said he did it to stop her from hurting herself.
The divorce filing also detailed two other incidents: One in the late '70s in which the neighbors called the police after a shouting match turned into a plate-throwing fight, and one in which Lisa Henning alleged that Puzder punched her in 1985 while they were driving in a car. Questioned about the incident in a deposition for the divorce case, Puzder said that he had not punched his wife, but acknowledged driving onto the curb: "I think it had to do with the liquid refreshment we had with our dinner more than anything else."
But in a recent email to her ex-husband, Henning — who has since remarried and now goes by a different last name — walked back her claims of abuse.
The email was provided to the
RFT
by a spokesman for Andrew Puzder this afternoon, soon after this story was initially published.
Dated November 30, 2016, the email references time the couple spent together with their children on Thanksgiving. In it, Henning states flatly, "You were not abusive."
She writes,
You know how deeply I regret many of the rash decisions I made at that time and I sincerely hope that none of those decisions will become an issue for you at this time. I impulsively filed for a divorce without your knowledge and was counseled then to file an allegation of abuse. I regretted and still regret that decision and I withdrew those allegations over thirty years ago. You were not abusive.

I will most definitely confirm to anyone who may ask that in no way was there abuse. We had a heated argument. We both said things to one another that we regret to this day. I have always been grateful that we have been able to forgive one another for the hurt we caused caused each other.
The email continues, "You and I resolved this long ago. We put it behind us and now enjoy what I consider to be a loving and respectful relationship. That is a testament to your integrity and grace. This would not have been possible if you had been a violent or abusive husband. You were not. I wish you always the best of luck in any and all of your endeavors. I know you would be an excellent addition to the Trump team."
At the time of the
RFT
's original story, Puzder was not associated with the Carl's Jr. chain. The Wash U law graduate was best-known as an anti-abortion crusader who'd authored the Missouri law imposing serious restrictions on using any state funds or facilities for abortion or related services. The U.S. Supreme Court upheld the law in a landmark case,
Webster vs. Reproductive Health Services
, not long before the
RFT
aired Henning's explosive claims.
Puzder was also serving as the chair of then-Governor John Ashcroft's Task Force for Mothers and Unborn Children. He offered to resign the post in light of the
RFT
story, according to a July 29, 1989 front page story in the
St. Louis Post-Dispatch
. "I wouldn't want this to hurt the pro-life movement," he told the daily. "I wouldn't want this to hurt the task force, and, particularly, I don't want it to hurt my family."
Neither the original
RFT
story nor the
Post-Dispatch
follow-up is currently available online. Turn the page for the complete text of the 1989 story.
Editor's note: We updated this story two hours after publication to include a more recent letter from Lisa Henning to her ex-husband.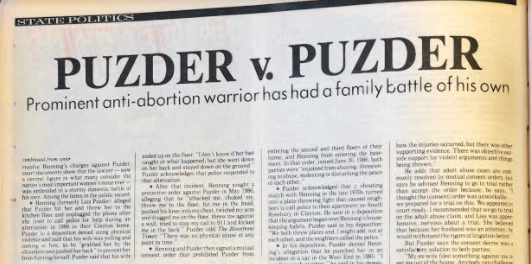 First published July 26, 1989
PUZDER v. PUZDER

Prominent anti-abortion warrior has had a family battle of his own
by Gianna Jacobson & J.A. Lobbia
One of the key people picked by Gov. John Ashcroft to craft Missouri's next anti-abortion statute was accused of physical abuse by his ex-wife in their divorce case, according to documents filed in St. Louis County Circuit Court.
St. Louis attorney Andrew F. Puzder, named Friday by Ashcroft to the Task Force for Mothers and Unborn Children, called the allegations by ex­-wife Lisa Henning "baseless" and said her charges of adult abuse were settled by a mutual consent decree without judgment against him. Henning declined to comment for this story.
But Puzder, who helped write Missouri's restric­tive abortion law that was upheld this month by the U.S. Supreme Court, did acknowledge in 1986 depositions that he and his wife twice engaged in disputes to which police were summoned.
And though the divorce proceedings did not resolve Henning's charges against Puzder, court documents show that the lawyer — now a central figure in what many consider the nation's most important women's issue ever — ­was embroiled in a stormy domestic battle of his own.
Among the items in the public record:
Henning (formerly Lisa Puzder) alleged ​​that Puzder hit her and threw her to the kitchen floor and unplugged the phone after she tried to call police for help during an altercauon in 1986 in their Clayton home. Puzde, in a deposition denied using physical violence and said that his wife was yelling and coming at him, so he "grabbed her by the shoulders and pushed her back" to prevent her from hurting herself. Puzder said that his wife ended upon the floor. "I don't know if herfoot caught or what happened, but she went down on her back and stayed down on the ground." Puzder acknowledges that police responded to that altercation.
After that incident, Henning sought a protective order against Puzder in May 1986, alleging that he "attacked me, choked me, threw me to the floor, hit me in the head pushed his knee into my chest twisted my ar​m and dr​agged me​ ​on the floor, threw me against a wall, tried to stop my call to 911 and kicked me in the back." Puzder told The Riverfront Times: "There wa​s​ no physical abuse at any point in time."
Henning and Puzder then signed a mutual consent order that prohibited Puzder from entering the second and third floors of their home, and Henning from ente​ring the basement. In that order, issued June 30, 1986, both parties were "enjoined from abus​ing​, threatening to abuse, molesting or disturbing the peace of eac​h other."
Puzder acknowledged that a shouting match with Henning in the late 1970s turned into a plate-throwing fight that caused neighbors to call police to their apartment on South Rosebury in Clayton. He said in a deposition that the argument began over Henning's housekeeping habits. Puzder said in his deposition· "We both threw plates and, I might add, not at each other, and the neighbors called the police."
In his deposition. Puzder denied Henning's allegation that he punched her in an incident in a car in the West End in 1985. "I recall no such incident," he said in his deposition. He added, however: "I do recall coming back from the Central West End and going up on a curb near Forsyth and Skinker. but it had nothing to do with my reaction to Lisa. I think it had to do with the liquid refreshment we had with our dinner more than anything else. But it was just up and over and off."

Records show the couple was married in 1973 and divorced in 1987. They had two children. As a result of the divorce, Henning and Puzder were awarded joint custody of their son and daughter, with primary physical placement with Hennings. Later, as the result of Puzder's motion to modify the custody decree, the physical placement of the son was changed to Puzder, records show.
The documents also show that Henning was awarded $1,000 a month for maintenance for three years for herself and $730 per child per month for child support.
The relevance of Puzder's domestic trouble varies according to whom you ask. Laura Cohen, state coordinator for the Missouri branch of the National Abortion Rights Action League, says, "If this is really true we have to wonder where Gov. Ashcroft's judgement is. Should someone like Puzder recommend policy for all the women and children in Missouri? The ultimate question is 'Who decides?' Will men like this be able to have control over women's most personal and private choices?"
Ashcroft could not be reached for comment.
Puzder himself says his domestic troubles have no bearing on his public work. "This is a personal matter and has nothing to do with issues I'm speaking out on," he told the RFT Monday night. "The fact that I was appointed to the task force, I don't think is relevant to these issues. This is what normally happens in divorce case. You're blowing it way out of proportion.
"There was no physical abuse at any point in time. If ever something was filed to gain personal benefit, this is it. If you're trying to smear me by raising the fact that my ex-wife made some charges against me, you're making a big mistake. It would not be good journalistic practice to publish this. I have been served with nothing. I was involved with a custody battle for my son over a year ago, which I won."
But Daniel Sokol, the attorney who represented Henning in the adult abuse action and divorce, says of his client, " I believe her. I handle 150 domestic relations cases a year. I thought her story was not only credible but true. I would not pursue a cause of action on behalf of a client unless I believed it."
Sokol is vice-chairman of the Family Law Section of the Missouri Bar Association.
Sokol says he has copies of medical reports that substantiate that something occurred to cause Henning injury. "This was an allegation of a series of instances coupled with physical evidence. Obviously, it's her word of how the injures occurred, but there was other supporting evidence. There was objective outside support for violent arguments and things being thrown."
He adds that adult abuse cases are commonly resolved by mutual consent orders, but says he advised Henning to go to trial rather than accept the order because, he says, "I thought the (consent) order was unworkable .... we prepared for a trial on this. We appeared in court ready. I recommended that we go to trial on the adult abuse claim, and Lisa was apprehensive, nervous about a trial. She believed that because her husband was an attorney, he . would withstand the rigors of litigation better.
But Puzder says the consent decree was a satisfactory solution to both parties: "My ex-wife filed something against me to get me out of the house. Anybody can challenge anything in court. It was dropped. This happens in a lot of divorce cases and it was settled between her and I pursuant to a consent decree. She filed a motion for violation of the consent decree, and we filed a motion for sanctions for a frivolous motion. She dropped her motion.
"As part of a lot of divorce cases now, claims are made under the Adult Abuse Act. This one was baseless and nothing ever came of it. There was never even a hearing on any of these things, not even on the initial abuse charge. Lisa and I worked it out through a settlement, then she got upset and filed again. We filed against her and she dropped her claim. She tried to attach by wages, but when we chal­lenged her in court she dropped it. It didn't go anywhere and no court judgments were made against me."
Puzder repeatedly stresses that his divorce case "has nothing to do with" his appointment to the governor s task force.
Puzder has long been active in Lawyers for Life, an anti-abortion group. He essentially wrote the language of the Missouri House Bill 1596, which was the basis for the case that the Supreme Court decided on July 3. The original state bill was passed in 1986 — the same year that Henning charged Puzder in the adult abuse case.
​Ashcroft's panel, made up of seven people with anti-abortion ties, has itself come under sharp criticism from both pro- and anti-choice forces.
Two leaders of the Missouri Legislature were reported Tuesday as saying the task force is "obviously slanted toward one side of the issue" and not "a fair way to proceed in trying to arrive at a consensus." The two politicians, Senate President Pro Tem James Matthewson (D-Sedalia) and House Speaker Bob Griffin (D-Cameron) both characterize themselves as supporters of abortion restrictions.
Pro-choice activists are also protesting the task force, which includes Puzder, Lou DeFeo, lobbyist for the Missouri Catholic Conference and Loretto Wagner, president of Missouri Citizens for Life.
"This is another example of how our governor promotes his personal religious agenda at the expense of Missouri taxpayers — and the health of women in our state," says Cohen. "The governor's appointments expose this task force for what it is — a sham." In particular Cohen questioned why no obstetricians or gynecologists were named to the task force.
One reason for criticizing the all anti-choice group, Cohen says, is that it is not representative of voters in Missouri. A recent MissouriNet poll shows that 54 percent of the state favors upholding legalized abortion as it is provided under the Roe vs. Wade ruling, while only 42 percent of the state supports overturning the 1973 decision.
We welcome tips and feedback. Email the author at sarah.fenske@riverfronttimes.com