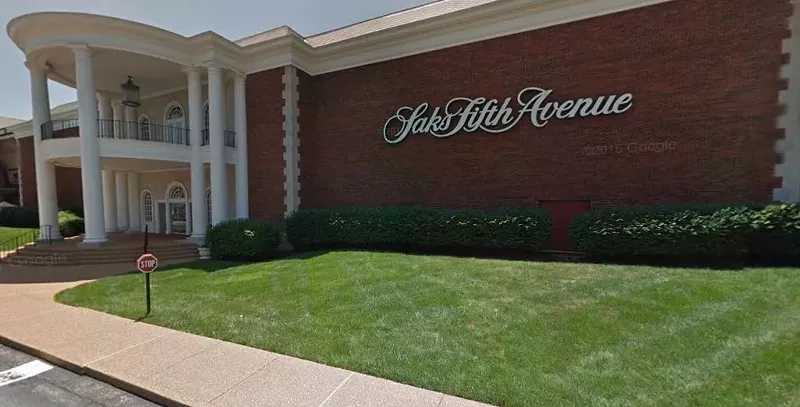 Image via Google
Eight Chicago thieves are facing federal charges in a Saks Fifth Avenue heist.
Eight Chicagoans now face federal charges in a wild smash-and-grab robbery at Plaza Frontenac.
The crew snatched nearly $60,000 in pricey handbags from Saks Fifth Avenue on November 26 before leading cops on a high-speed car chase into Illinois, authorities say.
The defendants are already facing state charges in St. Louis County for the heist. The new charges pursued by prosecutors in the U.S. Attorney's Office allege the suspects violated federal law by transporting stolen property across state lines.
Court documents describe a chaotic scene at the Plaza Frontenac. Ten to twelve thieves, their faces hidden in hooded sweatshirts, mobbed Saks shortly after it opened at 10 a.m., stormed into the Chanel boutique inside the store and started grabbing handbags, authorities say. The bags were anchored by cables to glass shelves, so the suspects ripped down the entire apparatus and smashed the shelves on the floor before bolting back outside.
They sprinted to two cars they'd left in the parking lot and sped off. Frontenac police pursued one of the cars, a red Dodge Journey, onto Interstate 64, but abandoned the chase at Big Bend because of the dangerous speeds. The Dodge topped 100 mph as it weaved through traffic, authorities say.
State police and local cops in Illinois were finally able to stop the car on northbound Interstate 55, just south of Litchfield, Illinois. Officers recovered sixteen stolen handbags with a total value of $59,785. Police estimate the damage to the store was at least another $6,000.
Authorities say 24-year-old Derrick Crowder was driving. The other defendants were identified as Dejuan Wingard, 21; Mario Washington, 24; Jacob Lee, 27; Darius Bowdry, 21; Terrence Bell, 25; Julian Campbell, 22, and 22-year-old Keyshyala Thomas.
They were jailed in the state case on $75,000 bond. If convicted of the federal charges, they face a maximum sentence of ten years in prison, a $250,000 fine and they would have to pay restitution.
We welcome tips and feedback. Email they author at doyle.murphy@riverfronttimes.com or follow on Twitter at @DoyleMurphy.