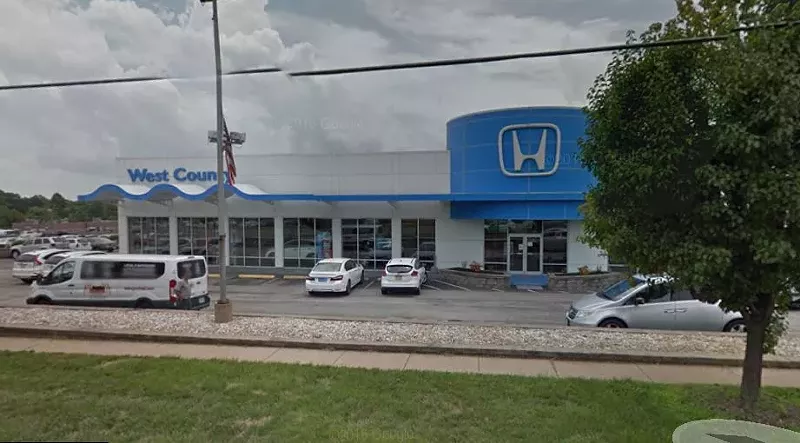 Image via Google
The former general manager of West County Honda is facing fraud charges.
A St. Louis car dealer cheated his bosses out of $395,000 during the course of a two-year scam, authorities say.
William Cafarella, 42, lied about the number of cars sold during his run as general manager of West County Honda, collected kickbacks and used company money to cover personal costs, such as his country club bill, according to a federal indictment. All told, he allegedly cost the Ellisville dealership about $1.8 million.
Cafarella, who now lives in Davie, Florida, is facing fraud charges that carry a maximum penalty of twenty years in prison and fines of $250,000.
According to federal prosecutors in Missouri, Cafarella made it look like the dealership had sold 308 cars more than it did between 2011 and 2013 because he earned a ten percent monthly bonus on West County's profits.
The bogus sales caused the vehicles warranties to start running, which cut into their value, authorities say.
Prosecutors from the U.S. Attorney's Office also claim Cafarella took bribes and kickbacks of more than $50,000 from companies that did business with West County Honda.
He even padded bills from a marketing company to cover concert tickets, according to the charges.
He was charged with four felony counts of wire fraud and another felony count of mail fraud.
We welcome tips and feedback. Email the author at doyle.murphy@riverfronttimes.com or follow on Twitter at @DoyleMurphy.