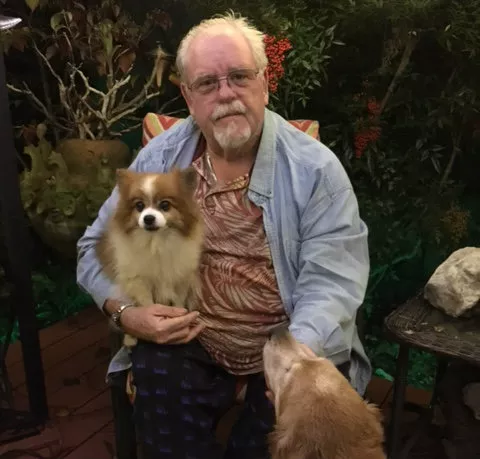 PHOTO COURTESY OF MARK SWAIN
Mark Swain with Kirby (left) and Cheyenne.
Last month, Mark Swain survived a pet owner's worst nightmare in the city's Mt. Pleasant neighborhood — an attack on one of his dogs by thugs trying to steal the other.
Swain, 65, says he frequents Lyon Park, at 3100 South Broadway, because it's typically deserted, and he can let his dogs run off-leash. But that isolation proved to be a double-edged sword during his visit on the morning of Sunday, October 2. Around 9:30 a.m., a car pulled up. When two men jumped out, they immediately ran toward Kirby, a pure-bred Pomeranian.
Swain's older dog, a golden retriever named Cheyenne, leapt into action. Normally a gentle animal, Cheyenne quickly went into protective mode. "Something clicked in her that I've never seen before," he recalls.
The men didn't easily give up. "They started punching and hitting her. I tried to protect her, but they started punching and hitting me," he recalls. He believes he was saved from further blows only by a trucker passing by who blew on his horn, spooking the two thugs.
But the incident, while brief ("the whole thing probably took a minute," Swain says), has caused lasting damage. Swain lost several teeth in the front of his mouth, and others are now seriously loose. "It's very embarrassing to smile and talk," he acknowledges.
Trained as a nurse, Swain had already been unable to work thanks to health problems. "I have all these licenses and can't do anything I'm licensed to do," he says. And with a fixed income, he simply can't afford the estimated $3,000 he needs to get the bad teeth removed and a set of dentures.
Originally, he had no plans to ask for help. But recently, while volunteering with his neighborhood association, he met Lucy Hannegan, who runs Twice Blessed Resale in Dutchtown. She told his story to her husband Bill, who is no stranger to either fundraising or the media
thanks to his work trying to stop the city's smoking ban
, among other causes. Hannegan
put up a GoFundMe page
and also reached out to the
RFT
.
Swain was ultimately on board, despite a natural reticence to ask strangers for help.
"It's very embarrassing to me," he acknowledges. "I spent most of my life getting an education so I'd always have a job, but life circumstances ..." He trails off, then says that getting a little help in his time of need would be "an absolute blessing."
Swain says Cheyenne is OK, although not herself around strangers anymore. As for himself, he tries to take the long view. He's been living in south city too many decades to get alarmed by crime, even when he's the victim.
"I love St. Louis, and I love my neighborhood," he says. "I just keep going. I think it's going to get better."
See
Mark Swain's GoFundMe page here
.

We welcome tips and feedback. Email the author at sarah.fenske@riverfronttimes.com