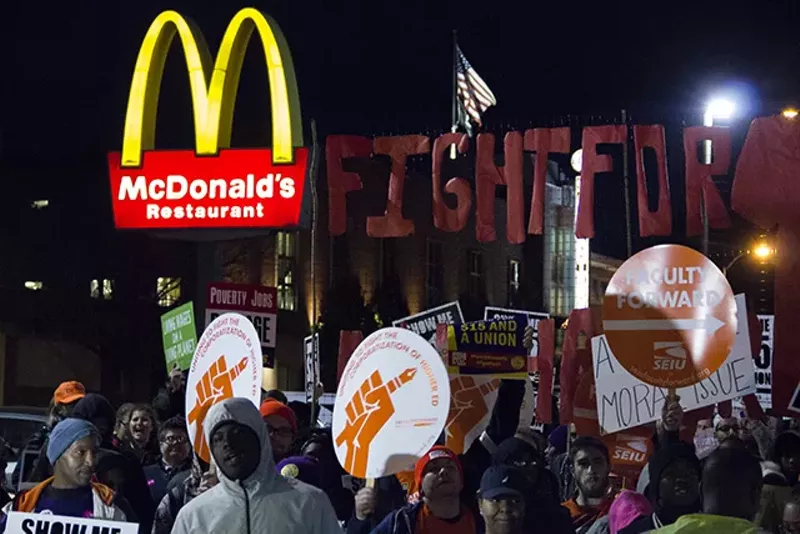 Photo by Danny Wicentowski
Protesters converged on a McDonald's on Hampton Avenue Tuesday evening.
Joining the national swell of protests against low wages, hundreds took to the streets of St. Louis Tuesday to demand higher pay and union representation — particularly at fast food restaurants like the ones that dot Hampton Avenue just south of Forest Park.
"I need a living wage, fifteen dollars and a union," explained Wanda Rogers from the crowded parking lot of the Carpenter's Union Hall, which was filled with protesters preparing banners and props. Rogers said she works a minimum wage job —
$7.65 an hour
— at the McDonald's across the street.
One hour later, around 6 p.m., Rogers would be arrested outside her workplace, having joined about two dozen protesters who planted themselves in the middle of Hampton, blocking rush-hour traffic and attracting the attention of a throng of city cops.
Charged with impeding the flow of traffic, the protesters were released about two hours later.
For Rogers, 45, surviving month-to-month on the state's minimum wage is an uphill battle with no relief in sight. At times, she said, she's been forced to juggle between paying utility bills and making basic purchases, like having food in the house and keeping the lights on.
"Sometimes I cry," Rogers said. "I'm wondering, when I get through paying my rent, how I'm going to pay my light bill? How I'm going to buy household supplies, and explaining to my grand-kids why we're sitting in the dark with no light or no gas?"
The evening's protest on Hampton was the second such disruption staged in St. Louis yesterday. That morning, around 100 protesters converged on a downtown McDonald's, although no one was arrested.
Photo by Danny Wicentowski
The 30 or so protesters arrested were released after a couple hours, organizers say.
All told, workers in 340 U.S. cities participated in protests on Tuesday. The demonstrations mark the fourth anniversary of walkout of 200 workers in New York City, who called for a $15 minimum wage and expanded rights for those working long hours at labor-intensive jobs. Since those 2012 protests, the national movement for a $15 wage has expanded to include airport workers, adjunct professors, home-care aides and others who feel exploited by a system that seems to reward only employees at the top of the food chain.
Those 2012 protests inspired Rasheen Aldridge, too. One year later,
when Aldridge was working at a Jimmy John's in Soulard
, a manager handed him a hand-written sign stating "I made three wrong sandwiches" that was intended to humiliate the teen. Instead, Aldridge became one of the first fast-food workers in St. Louis to stage a strike demanding a $15 wage.
Much has changed for Aldridge since then. He became a protest organizer in Ferguson and was subsequently appointed to the Ferguson Commission as its youngest member. Earlier this month, he won a
dramatic election contest
for a seat on St. Louis' Democratic Party's central committee.
"I'm happy that the movement doesn't stop," said Aldridge, who joined the protesters marching on the McDonald's. "To see how it has been growing from fast-food, then healthcare, then childcare, then home care, airport workers — it's beautiful."
Photo by Danny Wicentowski
The coalition may have grown, but activists have been frustrated by the lack of actual progress. Although St. Louis' Board of Aldermen voted in 2015 to gradually increase the city's minimum wage to $11 dollars by 2018, that measure was immediately challenged by state lawmakers, who passed legislation banning municipalities from enacting their own minimum wages. The Missouri Supreme Court will determine the legality of the state law; any increase is on hold awaiting its decision.
Activists are also facing the prospect of an incoming Republican governor in Eric Greitens, who has voiced opposition to unions and
supports so-called "right to work" laws
. And as for Donald Trump, the president-elect's position on raising the minimum wage
is an incoherent mess of declarations, contradictions and reversals.
And workers protesting for higher wages must still contend with the stigma that they are lazy, undeserving "burger-flippers." As the crowd of protesters marched to the McDonald's on Tuesday evening, a driver in a passing white pickup truck yelled, "Get a fucking job."
It's easy to suggest — or to shout from a passing car — that these fast food workers should simply find better jobs. Betty Douglas, 59, has worked for McDonald's for nine years, and she said she currently makes just $7.90. But it's a steady paycheck, and she needs a stable income to support her family.
"It's the owners that don't want to pay," Douglas remarked during the protest. "I'm going to keep it real — they're greedy. They have a billion-dollar company. It's not like they can't afford it. I mean, how many billions does it take to live?"
<!—StartFragment—>
Follow Danny Wicentowski on Twitter at @D_Towski. E-mail the author at Danny.Wicentowski@RiverfrontTimes.com