Doyle Murphy/RFT
Biddle Housing Opportunities Center off North Tucker Boulevard is a hub for homeless services.
A $1 million federal grant could help St. Louis take as many as 150 homeless men, women and children off the streets next year.
The money targets people who need a little extra help — cash for a deposit on an apartment, new job skills or maybe a lawyer to clear up a nagging legal issue — and works to get them into a new place as quickly as possible.
The strategy, called "rapid rehousing," works off the idea that if people don't have to constantly worry about finding a place to sleep at night, service providers can help them work through whatever issues put them on the streets in the first place.
"What they need is short-term help to get back into housing and on their feet," Mayor Francis Slay says, adding that the population targeted by the grant accounts for the majority of the city's homeless.
Slay spoke Tuesday at a news conference at Biddle Housing Opportunities Center, the city's new $2.5 million facility where the nonprofit St. Patrick Center and Peter & Paul Community Services operate a hub of services for the homeless, including an overnight emergency shelter for nearly 100 men.
The new grant is funded by the Department of Housing and Urban Development and will be executed by St. Patrick and Gateway 180, another nonprofit that fights homelessness, as part of a coordinated effort.
ArchCity Defenders, a nonprofit law firm that works with the city's indigent, has also signed on to help with legal support, such as eviction proceedings and lingering warrants that can keep people from finding apartments.
City officials and service providers say the majority of St. Louis' homeless residents need only minor to moderate assistance. The so-called chronic homeless, which may include people with severe mental health problems, account for about one-fifth of the people in need, according to their estimates.
"A lot of people, when their utilities get shut off, that's when they enter the system," St. Patrick Center CEO Laurie Phillips says.
The grant is renewable, and the city has already applied for 2018 funding. St. Louis has also been awarded a separate $400,000 grant to work on chronic homelessness.
The city is preparing for a possible wave of people in need of help. St. Louis' largest shelter, the privately run New Life Evangelistic Center on Locust Street, is under orders from the building department to shut down in early December if doesn't secure a new occupancy permit.
Slay says the city has tried to persuade the Rev. Larry Rice, New Life's founder, to join the St. Louis Continuum of Care, a coalition of service providers, but the pastor has refused. The continuum means more help for the homeless, the mayor says.
"What also comes with that is accountability, which he doesn't want," Slay says.
Rice has claimed the city and neighbors in the gentrifying neighborhood surrounding his shelter are playing to a new class of well-off residents who've moved into lofts in the past decade. He has vowed to stay open.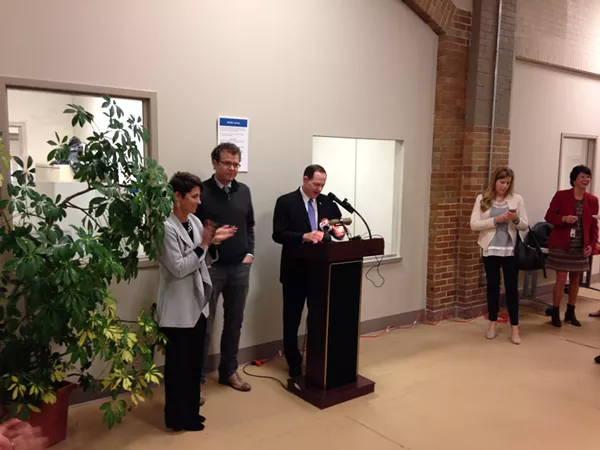 Doyle Murphy/RFT
Mayor Francis Slay with St. Patrick Center CEO Laurie Phillips (far left) and ArchCity Defenders founder Thomas Harvey (left) announce a $1 million federal grant.
We welcome tips and feedback. Email the author at doyle.murphy@riverfronttimes.com or follow on Twitter at @DoyleMurphy.