Image via St. Louis County Police
A band robber was caught on camera on Monday at Reliance Bank in Fenton.
A bank robber who wore surgical gloves and a surgical mask was busted after someone recognized him as a regular hospital visitor, authorities say.
Anthony Sheridan, 38, was charged on Wednesday with first-degree robbery. The Carondelet neighborhood resident is accused of holding up Reliance Bank in Fenton last Monday.
St. Louis County police claim Sheridan slipped the teller a note, threatening violence.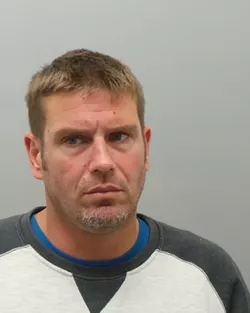 Image via St. Louis County Police
Anthony Sheridan was charged with first-degree robbery.
"I have a gun," the note said, according court documents. "Give me all the money fast. No dye packs. Hurry now or you won't get hurt."
Despite the confusing grammar, the teller handed over $1,396 in cash. Sheridan fled out of the door, police say.
He got away with it for two days, until police received a tip from someone who'd seen a picture of the bank robber in a news story. The tipster recognized the suspect's clothing, minus the surgical accessories, and provided investigators with Sheridan's name.
Sheridan may have been a bank robber, but he was also apparently diligent about visiting a patient at the hospital. The tipster claimed to have seen him there multiple times, including once about an hour before the bank heist.
Investigators reviewed the hospital's cameras and found video of Sheridan that matched the footage they had from the bank robbery, police say.
They were able to trace the bank robber's movements to a Drury Inn, about a hundred yards from Reliance. In a trash can outside, they discovered a surgical mask. Investigators also learned the suspect had taken a cab from Drury into St. Louis city, authorities say.
Police followed the trail to another hotel, where they found and arrested Sheridan. Confronted with the accusations, Sheridan confessed to the crime, police say. He told investigators he had written the note at the hospital before going to Reliance and handing it to the teller.
Police searched his hotel room and found the rest of the clothes he wore during the robbery.
Sheridan was jailed on $250,000 cash bond.
We welcome tips and feedback. Email the author at doyle.murphy@riverfronttimes.com or follow on Twitter at @DoyleMurphy.