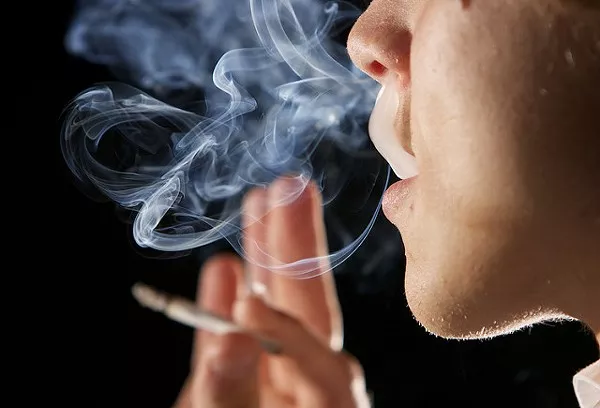 Let it be known: The Missouri Association of Prosecuting Attorneys isn't down with weed — and the group is ready to defend prohibition even if it means opposing medical marijuana for those battling serious illnesses.
As detailed in this week's cover story, which traces the failure of Missouri's flagship medical marijuana ballot initiative, the state association is actively opposed to cannabis legalization — despite polling that shows that more than 60 percent of Missourians would support some form of medical cannabis. Back in August, a dozen prosecutors signed their names to an affidavit declaring that marijuana is a gateway drug that "destroys children's lives and results in addiction and a lifetime of suffering."
Strong words indeed. And this week, during the annual conference of the Missouri Association of Counties, or MAC, government officials from across the state rejected the prosecutors' hard-line positions on pot.
MAC is a non-profit "lobbying alliance" that represents more than 1,400 elected officials, according to its
website
. On Sunday, during a legislative committee hearing, the prosecutors' association submitted a resolution that sought to place MAC firmly on the side of anti-pot crusaders.
According to the resolution (included later in the post), marijuana is a "dangerous psychoactive drug" with no medical value and is linked to violence, crime and child abuse. The resolution called for MAC to oppose "any legislative efforts" that would legalize or decriminalize weed — recreational or medicinal — in Missouri.
The resolution passed the legislative committee, and on Monday it was brought before MAC's full membership for a vote. But the resolution's vilification of medical cannabis didn't go over well.
"There was quite a debate," says MAC president-elect Wendy Norwald, who chaired the Monday meeting. "Most people that stood up were against the resolution."
According to Norwald and several attendees interviewed by
Riverfront Times,
the resolution attracted broad criticism from MAC members. Some noted how ailing family members could be treated with medical cannabis, if only it were legal in Missouri. One county commissioner recounted how her own sister had to move to a different state to obtain relief using the so-called "dangerous psychoactive drug."
It's likely that a significant portion of MAC's members aren't fans of recreational marijuana, but Norwald says that the prosecutors' opposition to medical marijuana was a deal-killer. After some debate, Karen Miller, the Boone County Commissioner, proposed a motion to reject.
The resolution was defeated with a voice vote.
"It was a substantial yea not to adopt," says Norwald. She believes the resolution was too sweeping, and its passage would have placed MAC in an awkward position as an active lobbying group.
"We are advocates for the Missouri taxpayer, our citizens and constituents. We typically don't get involved in something like this," she says. "In my mind, this is a personal issue. I have a husband who has chronic pain and the doctor has told him a million times that medical cannabis could help. That's a personal thing, and for MAC to get involved in a personal issue isn't what we stand for."
But for Amy Fite, the issue of medical marijuana is anything but personal.
Fite is the prosecutor for Christian County,
and in October she became president of the Missouri Association of Prosecuting Attorneys
. She was among the twelve prosecutors who intervened in the September trial in which New Approach Missouri desperately tried to get its ballot initiative on statewide ballots. The trial ended badly for the pro-pot advocates:
A judge ruled that the initiative failed to gather the required amount of signatures to make the 2016 ballot
.
Fite is convinced that opposing cannabis in all its forms is the right thing to do. She points to
research
in Colorado indicating that the state's legalization measures led to a spike in childhood exposure to pot. She's concerned that the same thing could happen here in Missouri.
"Legalization of marijuana is a public safety issue," Fite says. And although Missouri's lawmakers have recognized
the medical benefits of cannabis oil
for children with treatment-resistant epilepsy, Fite maintains that the legislature isn't the place to approve new medicines for public use.
"The appropriate channel for that is with the FDA," she says. "I'm certainly empathetic if there is somebody who is suffering or in pain, but all we're asking is that it go through the proper channels."
Of course,
it is the FDA's shameful history of pushing prescription painkillers
that's contributed to an addiction epidemic that's ravaging the country. Unlike opioids, no one is fatally overdosing on pot. But for Fife, until the FDA and federal agencies say otherwise, marijuana remains a Schedule I drug with no medicinal value. And the prosecutors association is willing to fight to ensure that Missouri upholds that designation.
For Fite and her allies, that means opposing any future legislation or ballot initiatives to legalize weed. Even limited measures, such as the failed New Approach Missouri ballot initiative, would open the door to broader legalization down the road, says Fite.
"Legislating medicine is not the way," she says. "That is really just a ruse with regards to the desire to have marijuana in any form."
See also:
Missouri Missed Out on Medical Marijuana in 2016. Here's Why

Continue to read the full text of the prosecutors' resolution rejected by MAC.
<!——StartFragment——>
ollow Danny Wicentowski on Twitter at @D_Towski. E-mail the author at Danny.Wicentowski@RiverfrontTimes.com