Image via SLMPD Twitter
Police Chief Sam Dotson describes an attack on a sergeant.
Update at 4:10 p.m.
St. Louis police have identified the suspect as nineteen-year-old George Bush III of the 7000 block of Landsdowne Avenue. Bush was wanted for a series of violent crimes in St. Louis city and county, authorities say. He was killed at 12:35 a.m. by a city police sergeant and an FBI agent, who shot him after he fired at officers, police say.
Original story below:

A man suspected of
shooting a St. Louis police sergeant in the face Sunday evening
was killed five hours later in a running gun battle with cops, authorities say.
The suspect fired at officers in the Clifton Heights neighborhood and bolted through a yard before he was fatally shot in the 6500 block of Smiley Avenue, just west of Watson, police Chief Sam Dotson told reporters during an early Monday morning news conference.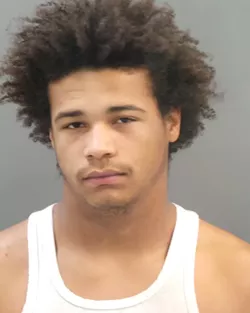 Image via SLMPD
George Bush III was killed after shooting a police sergeant, authorities say.
"Police officers returned fire, striking him, and he is deceased here," Dotson said.
The final showdown was the end of what Dotson described as a "massive" manhunt and possibly lengthy crime spree beginning days before the man ambushed the police officer on Hampton Avenue. The suspect, described by police as a black male born in 1997, was wanted in multiple robberies committed with friends, and investigators believe he may have been involved in a carjacking and even a homicide, Dotson said.
The man probably knew police were looking to arrest him for those crimes when he came across a 46-year-old police sergeant about 7:30 p.m. on Sunday.
Dotson says the sergeant, a married father of three, was patrolling along Hampton near Pernod Avenue when the suspect pulled alongside him in a silver-colored car and opened fire.
Investigators suspect the man worried he would be recognized and arrested.
"That's why he aggressively attacked the police officer tonight and made it very clear he was not going to stop for officers," Dotson said.
The sergeant was hit twice in the face but managed to call for help on his radio. Officers found him sitting behind the wheel with his seat belt on and gun in his holster, Dotson said. He was rushed to Barnes Jewish Hospital in critical but stable condition as police officers and federal agents from the FBI and ATF began searching for his attacker.
Dotson said they later found the suspect's car in a parking garage near Laclede's Landing. Investigators believe a female friend picked him up and drove him back to Clifton Heights, where he had friends.
Police tried to stop the woman's car shortly before 1 a.m., but the man jumped out of the passenger seat and sprinted through a residential neighborhood. He spotted an unmarked cop car in the 6500 block of Smiley Avenue and fired a shot through the windshield, narrowly missing the two officers inside, Dotson said.
"Neither was seriously injured," Dotson said. "They were sprayed with a little bit of glass from the shot that went through."
As more officers moved in, the man fired at them, too, Dotson said. They returned fire, killing the man.
Officers recovered a handgun that was fitted with an extended magazine, and Dotson said the suspect was carrying additional ammunition.
He was killed about one mile north of where the sergeant was shot.
We welcome tips and feedback. Email the author at doyle.murphy@riverfronttimes.com or follow on Twitter at @DoyleMurphy.