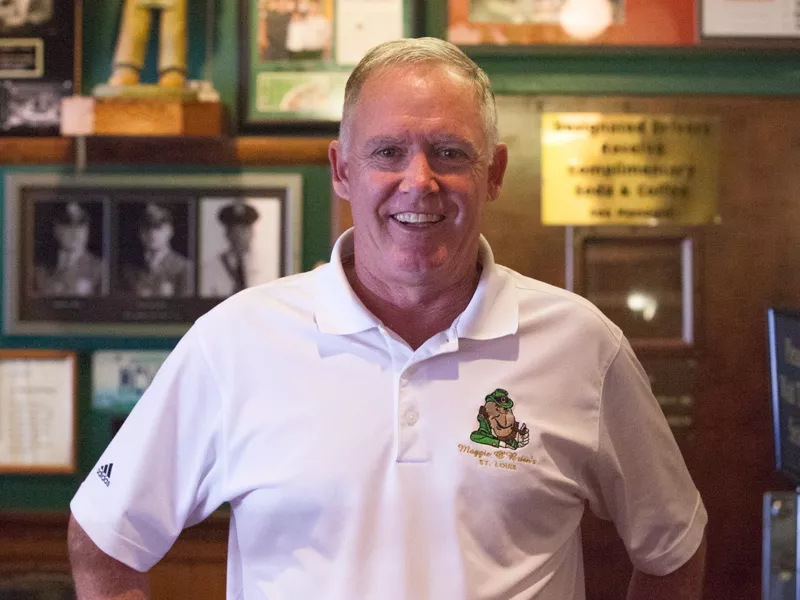 Image via MaggieObriens.com
Pat McVey, co-owner of Maggie O'Brien's was shot dead on Wednesday.
Friends and family of the slain owner of Maggie O'Brien's Restaurant & Irish Pub are putting up big money for information about his killer.
The maximum reward through St. Louis CrimeStoppers had reached $36,000 by this afternoon. All but $5,000 from CrimeStoppers would come from donors, the organization says.
Image via CrimeStoppers
A reward has been offered in the killing of Pat McVey.
McVey, who co-owned the popular downtown establishment with his younger brother, was
found dead on Wednesday afternoon
in his gray Ford Explorer on the side of Interstate 55. Police say the longtime barman had been shot about 2:30 p.m. A Missouri Department of Transportation discovered the grisly scene more than two hours later after spotting the SUV.
Police are still searching for his killer.
The CrimeStoppers reward is for information leading to an arrest, and the tip must be submitted through the organization's tip line: 1-866-371-8477 (TIPS).
We welcome tips and feedback. Email the author at doyle.murphy@riverfronttimes.com or follow on Twitter at @DoyleMurphy.