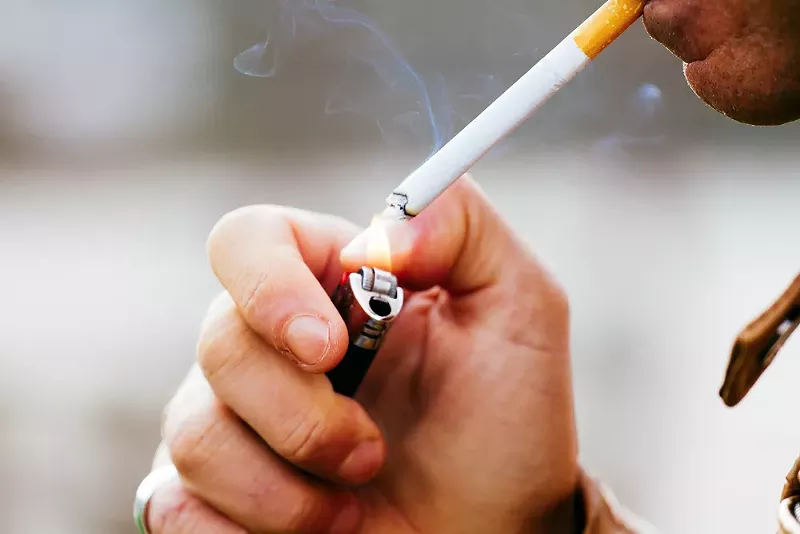 SHUTTERSTOCK/MeskPhotography
Looks like Missouri's dirt cheap cigarette prices aren't going up after all.
State voters last night rejected two different options for tobacco tax increases, defeating both an
RJ Reynolds-backed plan to raise the prices of a pack by as much as $1.27
, as well as a far smaller tax increase favored by its off-brand competitors.
Both Amendment 3 (the so-called "Raise Your Hand for Kids" proposition), and Proposition A, with its gentler increase, went down to clear defeat, winning 40 percent of the vote and 44 percent, respectively. That's despite, in Amendment 3's case, more than $13 million in backing from RJ Reynolds.
The amendment proved
bitterly divisive for many Missouri progressives
, who would normally be in favor of a measure that raised the price of cigarettes and raised money for early childhood education to boot. But the devil was in the details — everyone from Washington University to the ACLU opposed the amendment.
Other amendments to the state constitution, however, largely won favor from voters last night —- with voters approving campaign finance reform, the renewal of a small sales tax that funds the Department of Natural Resources and a voter ID law.
Here's how the other constitutional amendments performed as of last night's final, but unofficial, totals.
Amendment 1:
Should consumers continue to pay a one-tenth of one percent sales tax for soil and water conservation? Voters said yes, agreeing to renew the tax for another 10 years. That allows for continued funding of the state Department of Natural Resources, which would have otherwise been completely defunded. The amendment won with 80 percent of the vote.
Amendment 2:
Should Missouri reform its campaign finance system? Voters said yes — with a 69 percent margin — to Amendment 2's plan to take the state's largely limitless system and restrict individuals to a $2,600 contribution to each individual state and judicial candidate per cycle, as well as $25,000 to parties. Rex Sinquefield, your days of giving candidates a cool million here and there appear to be cover.
Amendment 4:
Voters were asked to bar the state from applying the sales tax to services, which could include anything from manicures to dry cleaning real estate agents. It too cruised to approval with 57 percent of the vote.
Amendment 6:
This GOP-backed amendment would require voters to provide government-issued ID at the polls. Voters said yes to it as well, with 63 percent of voters approving.
We welcome tips and feedback. Email the author at sarah.fenske@riverfronttimes.com