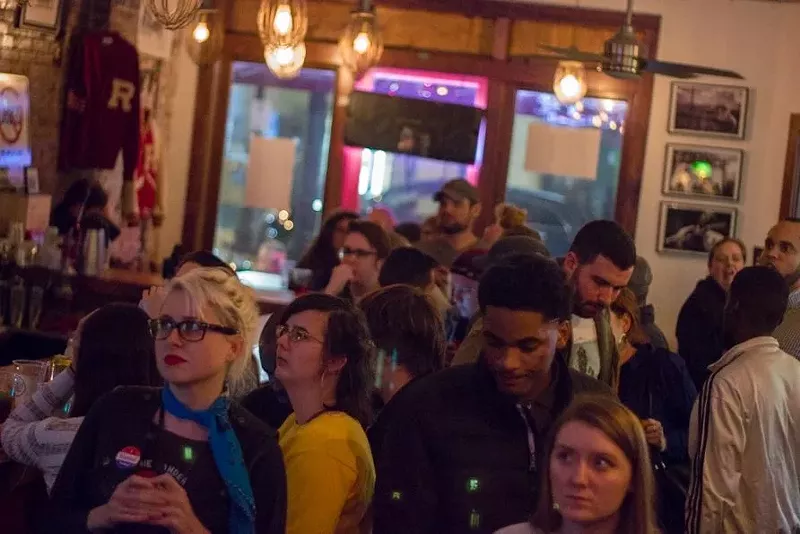 Photo by Danny Wicentowski
The crowd at Yaquis watch election results with mounting horror.
At Gina's Bar and Grill, an Old North drinking spot favored for its dance floor and billiards tables, election night begins with anticipation and no small amount of frayed nerves.
Here, Rasheen Aldridge and his supporters gather to await the results of a contentious revote for a position on the St. Louis Democratic Party's central committee, a political slugfest that pits the 22-year-old protester and former Ferguson Commissioner against Rodney Hubbard Sr., the incumbent committeeman for the city's Fifth Ward.
The bar area fills with the jostling bodies of well-wishers. But their eyes increasingly reflect the blue and red rectangles splashed across television screens mounted to the barroom walls. It is just after 8 p.m., and the national election results are starting to come in.
See also:
Rasheen Aldridge Crushes Rodney Hubbard Sr. in Central Committee Revote
Photo by Danny Wicentowski
Unlike the most Democrats, Rasheen Aldridge had a good election night.
"I've always been a Republican," says Old North resident Kirsten Weaver, trying her best to contain the toddler squirming in her arms. This year, she says, she decided to vote Democratic for the first time. That decision had a lot to do with watching Aldridge challenge the results of an August vote in which Hubbard used
questionable-at-best practices to deliver absentee ballots
. Weaver was also inspired by Bruce Franks, who mounted a similar challenge against State Rep. Penny Hubbard (D-St. Louis) and later
won a September revote in a landslide
. Their efforts galvanized progressives who'd backed Bernie Sanders and are hoping, over time, to change the city's Democratic Party.
Tonight, Franks sits by the bar, mostly silent, hands clasped, watching the TV. Weaver says she's feeling confident about Aldridge's chances for winning the central committee
"Obviously," she adds, "I would never vote for Donald Trump. I'm honestly a little nervous about the presidential election, but I have high hopes."
The night will end badly for progressives. A political neophyte — a former Navy Seal campaigning as a conservative Republican —
will take the governor's office
previously held by a Democrat. An arch-conservative will win the race to replace the moderate Democrat serving as the
state's attorney general
. And
Jason Kander will lose
a hard-fought challenge to long-time incumbent Senator Roy Blunt (R-Missouri).
And worst of all for the city's true-blue Democrats, Hillary Clinton will go down to defeat — with Donald Trump taking more than 56 percent of the vote in Missouri and winning the presidency.
Early in the night, though, there is still hope. Near Weaver, another Old North resident speaks glowingly about Franks and Aldridge. Travis Sheridan, an Air Force veteran and California transplant, notes the irony of celebrating the end to the Hubbard political dynasty while also voting for Hillary Clinton.
"It's not as much about the dynasty as it is about the person's heart," Sheridan muses. Aldridge and Franks, he explains, have the heart for the job, even if they lack experience. His eyes flick back to the TV, tuned to Fox News' election coverage.
"I get nervous when red is too bright and blue is too dim," he says. "I still think that Hillary is going to win in the end. I'm a veteran, I'm an American, I'm going to live with the results either way. As much as I like Canada and Australia, I'm not going to move there. I'm optimistic that Hillary is going to be our president. If not I'm OK with it."
Sheridan may have already resigned himself to the possibility of a Clinton defeat, but the reports coming in from the national race — showing results much, much closer than Clinton supporters anticipated — are starting to poison the air in the bar. And across town, on Cherokee Street, the vibes are getting downright toxic.
On a brick building across the street from Yaquis — the restaurant whose owner hosted multiple street parties this year featuring
giant Trump piñatas, which were torn apart by gleeful children
— someone has set up a projector that splashes CNN's election coverage for public viewing.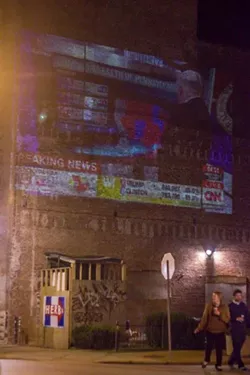 Photo by Danny Wicentowski
CNN was projected onto a brick building on Cherokee Street.
The news is ominous. Michigan looks like it's slipping to Trump. Florida is too close to call. And Pennsylvania suddenly looks vulnerable. Beneath the projection glow, baffled observers chain-smoke cigarettes and drink endless Busch tallboys.
"At this point of the night, it's our statisticians versus your statisticians," one man says, in a halfhearted attempt at reassurance. The coasts haven't been called. It's barely 10 p.m. There's no reason to panic yet.
An hour later, panic seems entirely warranted. Projections are beginning to put Florida in Trump's hands. Michigan appears ready to fall.
"I'm terrified, and in disbelief," says Keith Rose, who arrives at Yaquis close to 11 p.m. "I really didn't think that this was possible."
Rose isn't easily shaken. A longtime protester in Ferguson and St. Louis, he and a group of activists infiltrated a Trump rally earlier this year; they successfully disrupted the rally for a full ten minutes before security guards swooped in to restore order, allowing Trump to continue stirring his own brand of chaos in the minds of his Missouri supporters.
"I'm from a rural area," Rose says, "so I knew there was a heavy sentiment that was pro-Trump. But I didn't realize how pronounced it was. I didn't realize how much it had been ignored by the media, to the point that we went into this night wondering how big Hillary's victory was going to be."
There is a widespread misunderstanding of working class people, Rose explains. He pauses mid-sentence to watch as a white Toyota SUV rolls past. A man in the passenger seat is cradling a megaphone, but he doesn't shout anything at the assembled election-watchers.
"People in small towns are scared," Rose continues, "because they're seeing change, and historically change has never benefited them. They are seeing themselves as victims. When they hear about diversity, they think, 'That means I'm losing power, I'm losing jobs....'"
Before Rose can finish his thought, a megaphone pierces the air with an incoherent insult shouted from the passenger in the white Toyota. The words are garbled, and sound something like, "Well hello! Looks like a busted ass!"
Rose scoffs at the weak insult — whatever it was — and tries to pick up his train of thought.
But Rose is interrupted yet again, this time by a scuffle that's broken out inside Yaquis. Near the bar, Bruce Franks — who is officially state representative-elect by night's end — is being separated from a tall, bearded man by other election-watchers. The other man is clearly drunk, and he's being led out of the bar in a headlock.
Once outside, the man whips off his shirt as his wife, a skinny woman in a red tank top, begs him to stop. More than a dozen people pour outside. Some attempt to dissuade the man from going back inside Yaquis. Others offer to lay his ass on the street.
Was the scuffle related to the election? Was the man a Trump supporter? Bystanders agree that the answer is no. According to Franks, the drunk man had thought Franks was making some kind of move on his wife, and tried to grab him. Franks says he defended himself. It's an account echoed by others who saw the incident.
Outside, the drunk man and his wife finally are convinced to back off. (He'll later get kicked out of the Fortune Teller Bar as well.)
But now it's almost midnight, and people are going home. The projector is finally turned off, leaving the brick wall opposite Yaquis mercifully blank. Florida went to Trump. Pennsylvania went to Trump. In a matter of hours, the result will become official: the United States went to Trump.
Eight months ago
, Trump walked onto a stage in Peabody Opera House to roars of "Build that wall!" and "Lock her up!" He gloated and preened. He looked like he enjoyed the hell out of it. And when protesters were able to strangle that noxious joy with chants of their own, it felt like a meaningful blow against the forces Trump represented, a moment of resistance that halted — if only for ten minutes — Trump's wave of populist political ascendancy.
Instead, though, the wave continued, building and rolling and snarling its way across the country. On November 8, it crashed back down on all of us.
Yet there is still fight in St. Louis. Outside Yaquis, Rose and a handful of others mount an
impromptu protest
, marching and chanting down Cherokee Street. They march past the remaining election-watchers, urging the crowds inside the bar to get into the streets, to fight back.
The people are tired. They sit and drink. They sulk with an unfolding understanding of what has been done.
There is still fight left, for those who choose it. Aldridge —
who wins the revote election in a landslide of his own
— is in. Protesters and activists like Rose have made their decision as well. To fight.
But it's a hard night in St. Louis.
Photo by Danny Wicentowski
A small protest group marched down Cherokee Street after midnight.
Follow Danny Wicentowski on Twitter at @D_Towski. E-mail the author at Danny.Wicentowski@RiverfrontTimes.com