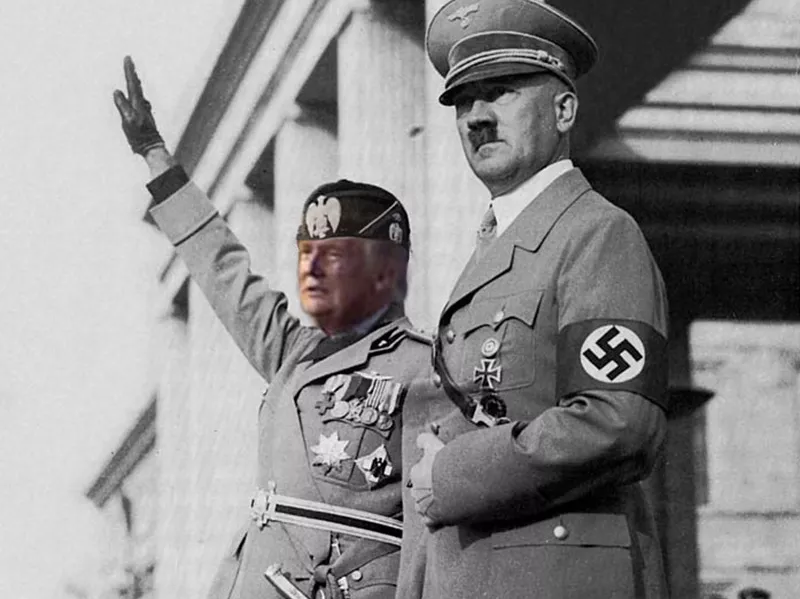 PHOTO ILLUSTRATION BY KELLY GLUECK
Il Duce and an old friend.
If you're a Clinton supporter and you're online today, no doubt you're seeing Hitler all over the place. Everybody from Cher to your entire Facebook feed are slinging Hitlers around (although in the interest of accuracy, Donald Trump's ex-wife Ivanka was first in with the Hitler stuff).
The lazy comparison is Trump::Hitler. But America calls everybody it disagrees with Hitler, because it's insulting, and because there's no real comeback other than, "No, you're Hitler!" It's this sort of grade school discourse that led us to this point. And besides, the people most familiar with electing Hitlers doesn't really see the comparison.
And so to my mind, the best comparison to Trump isn't the Nazi dictator. It's the fascist one.
Benito Mussolini has occupied my mind for the past several weeks, mostly because of how much Trump reminds me of him. The Italian dictator is mostly overshadowed by Adolf Hitler (there is no Godwin's Law for Mussolini — yet), but he is a much more instructive political figure than the Führer, particularly in light of last night.
While Hitler was deranged and driven by a hatred of non-Aryans, Mussolini was a canny politician who used the fears of Italy's king and conservative faction to rise to power. (Afraid of a civil war breaking out, they gave him the reins of government.)
Trump and Mussolini are not a matched pair. Mussolini was rabidly against pluto-democracies, while Trump seems partial to them, and Mussolini spoke fluent Italian while Trump barely speaks English.
But the similarities are noticeable.
Just as Trump reversed course on his earlier support for both the Clintons and abortion, Mussolini turned his back on his earlier beliefs. He dropped his ardent socialism in exchange for an idiosyncratic form of fascism that helped him achieve the power he desired. Like Trump, Mussolini was vocal in his hatred for a free press, and like Trump, he obsessed over establishing a strong border (Benito hated those damn Yugoslavians). Mussolini, too, was eager to get into northern Africa and do some damage.
Once entrenched in a war with Ethiopia, Mussolini adopted a zero tolerance policy against guerrilla opposition fighters (today, we call them terrorists). Trump's hard-on for dropping some A-bombs on Syria is often visible in news footage and photographs.
But perhaps the strongest similarity comes in their temperament. In 1938 H.G. Wells' released his speculative fiction novel
The Holy Terror
. It imagines a future utopia that sours, and is almost brought down by charismatic outsider Rud Whitlow.
It's also a pretty accurate analysis of the perils of fascism and a life lived in fear. Here's how Wells described one character:
Like most of his generation he dramatised human affairs in incurably geographical patches, and like most of the masterful men of his time his belief in his power to mould the life about him carried him beyond sanity. From the beginning his was an ill-balanced temperament; he would be blatant at one moment, and weeping at another. He beat at the knees of Mother Reality like an unteachable child. He wanted war and conquest, triumph over definable enemies, fierce alliances, and unforgettable antagonisms. He wanted glory.
That's how Wells saw Benito Mussolini. It's not a bad description of our new president, either.
Which is not to say that President Trump is going to lead us into world where the trains run on time and and we gas every nation that irks us.
Unlike Mussolini, Trump lacks the support of the king (because we don't have one) and the Church (because we don't have just one church), which were two forces that gave Mussolini much of his power.
The closest thing we have to a church is celebrity culture, and it's hard to imagine them rallying behind him (Scott Baio excepted).
Most likely Trump will lose a ton of money and bolt, because money is his ideal and the president job pays shit compared to what he claims he's earning now. Mussolini's ideal was originally a socialist republic, and then a unified nation that eliminated the class system. I can't see Donald going for that last bit. What fun is being a have if you can't step on all those have-nots?
At the very least, Trump's wardrobe should immediately improve (Benito looked sharp all the time) — and we'll eat a lot more spaghetti and meatballs while listening to crazy speeches about power, glory and our glorious powerful destiny.