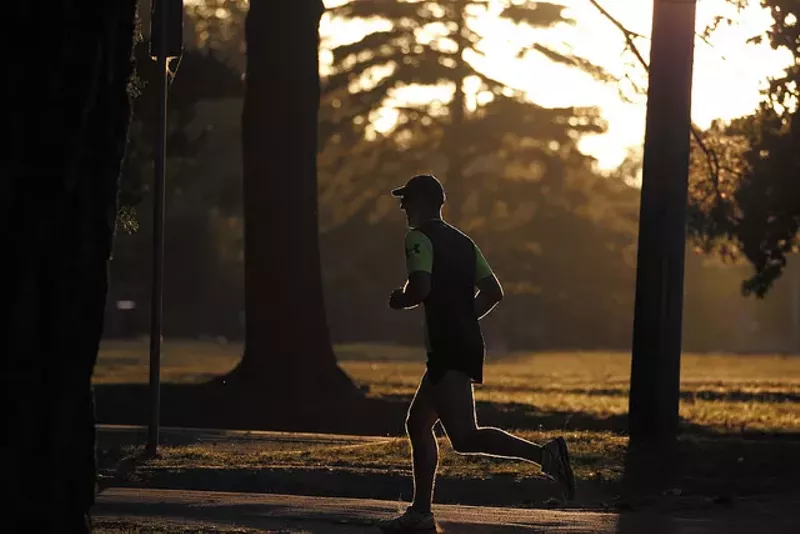 While out jogging in Tower Grove Park on a chilly evening in February, Kevin Chestnut paused to watch traffic stop unfolding across the street from the running path. Although the 60-year-old was wearing a yellow nylon t-shirt, headband and gloves — an outfit that all but screamed, "I am just some guy jogging" — he was still handcuffed and questioned by police, according to a lawsuit.
On Friday, Chestnut filed a federal civil rights lawsuit against three St. Louis metro police officers, alleging that they unlawfully arrested him and subjected him to public embarrassment over what should have been a non-issue.
Around 5:30 p.m. on February 5, the lawsuit explains, Chestnut left his home in Shaw and jogged south to Tower Grove Park and its winding trails. He was carrying only his house keys. Chestnut was about to take a breather when he came upon the traffic stop on the 3700 block of Arsenal Street on the south end of the park. He stopped to watch.
At that point, he was approached by several officers — named in the lawsuit as Dawain Wallace, Tiffany Burns and a unidentified "John Doe" officer — who were handling the traffic stop. They questioned Chestnut about his personal information and, according the lawsuit, accused him of acting "suspiciously" before restraining him with handcuffs. Minutes later, the lawsuit continues, a sergeant arrived and informed the jogger that he'd made the officers fear for their safety.
Chestnut spent about twenty minutes in handcuffs before the sergeant ordered him released, according to the suit.
"I felt very humiliated and intimidated about the escalating tension that was going on," Chestnut said in a phone interview Monday. He is baffled at the officers' actions, he says, especially since he was standing inside Tower Grove Park at the time, about 30 feet away. He didn't have his phone on hand, so he couldn't record any of his interactions with the police or the traffic stop.
"There was nothing to escalate. I didn't understand why their attention was being directed at me."
Chestnut says he later filed an Internal Affairs complaint about his arrest, though the investigation apparently resulted in no disciplinary actions taken against the officers.
RFT
reached out to the St. Louis Metropolitan Police Department for comment, but our questions were not immediately returned.
The civil rights lawsuit also names the City of St. Louis as a defendant. Chestnut is seeking attorneys fees and unspecified monetary damages for violating his Fourth Amendment rights and inflicting "psychological and emotional injury, humiliation [and] embarrassment."
<!———————————————StartFragment———————————————>
Follow Danny Wicentowski on Twitter at @D_Towski. E-mail the author at Danny.Wicentowski@RiverfrontTimes.com