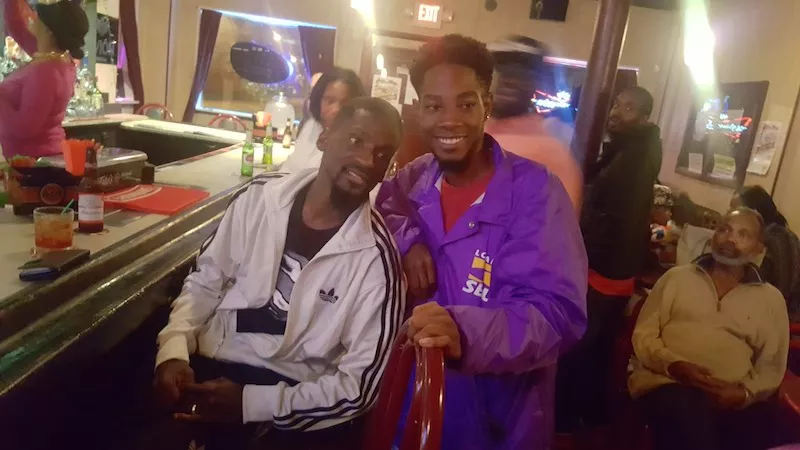 PHOTO BY DANNY WICENTOWSKI
Rasheen Aldridge, right, with Bruce Franks Jr., has been elected to the St. Louis' Democratic Party's central committee.
New blood is coming to the St. Louis Democratic Party: Rasheen Aldridge handily defeated Rodney Hubbard Sr. in a revote tonight.
Aldridge took 60.3 percent of the vote compared to Hubbard's 38.6 percent — with a margin of 708 votes, according to final but unofficial totals posted tonight.
The decisive victory ends a contentious chapter for St. Louis' Democrats.
Aldridge, a young activist appointed to serve on the Ferguson Commission, was one of a slate of progressive reformers taking on the city's Democratic Party establishment in August. The reformers, inspired in part by Bernie Sanders' run for the presidency, aimed to take seats on the party's central committee.
"I'm ready. I'm nervous, I'm energized," Aldridge told the
RFT
earlier in the evening. "I'm excited."
In the August vote,
Aldridge lost to Rodney Hubbard Sr. by just 53 votes
. He won the election day vote, but Hubbard took 70.9 percent of absentee ballots — and that was enough to tip him over the top.
But like Bruce Franks Jr., who narrowly lost his challenge to State Rep. Penny Hubbard (D-St. Louis), only to earn the right to a revote, Aldridge hired attorney David Roland to challenge the election. Roland focused on improprieties surrounding absentee ballots — and
persuaded a judge that they were significant enough to throw out the results and order a new election
.
We welcome tips and feedback. Email the author at sarah.fenske@riverfronttimes.com