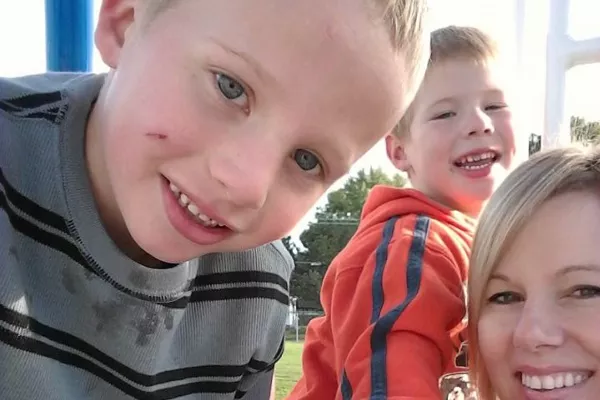 Image via GoFundMe
Ethan and Owen Cadenbach were killed by their father, police say.
With police closing in, a 43-year-old dad shot his two young boys, and then climbed out of a car he stole from his mother to face officers, authorities say.
Christopher Cadenbach of Washington raised his gun and shot himself in the head. A St. Louis County officer fired "almost simultaneously," striking Cadenbach in the lower torso, police say. Officers found the dying boys in the backseat.
The final harrowing moments of Saturday's deadly showdown were described this afternoon by county police.
The boys, five-year-old Ethan and four-year-old Owen, had been at their paternal grandmother's house in Lemay on Saturday, when Cadenbach kidnapped them, speeding away in his mother's 2006 Ford Focus, police say.
Police were immediately on high alert. It was about 4:40 p.m., and Cadenbach was wanted on a domestic violence arrest warrant with a $100,000 bond out of Franklin County.
Image via Facebook
Christopher Cadenbach killed two of his kids and himself, police say.
Police out of the St. Louis County precinct were told he was possibly armed with an assault rifle and had been making crazy statements about hurting the boys and killing himself, claiming he might commit "suicide by cop."
The boy's mother, Elisa Sartorius-Cadenbach, told the
St. Louis-Post Dispatch
Cadenbach was abusive, and he flipped out when she told him she was filing for divorce. Killing their children, she said, was an act of revenge.
"He was trying to get back at me and hurt me the best way he knew how," she told the paper.
Sartorius-Cadenbach had been granted an order of protection against her husband.
The Missouri High Patrol issued an Amber Alert for the boys as police fanned across the region. At about 8:15 p.m., a St. Louis County Park Ranger spotted the empty Ford in the parking lot of Cliff Cave Park, which runs along the Mississippi River in south county.
County police converged on the lot with a helicopter hovering overhead. As they moved in on the car, they could hear the sound of gunfire from within it. They would later realize that was the sound of Cadenbach shooting Ethan and Owen.
Once he was down, officers hurried to the backseat, performing CPR on the boys before they were rushed to the hospital. Both died there.
Cadenbach died in the park, and officers found a handgun next to him, police say.
Friends of the family have set up a
GoFundMe account
to raise money for Ethan and Owen's funeral.
We welcome tips and feedback. Email the author at doyle.murphy@riverfronttimes.com or follow on Twitter at @DoyleMurphy.