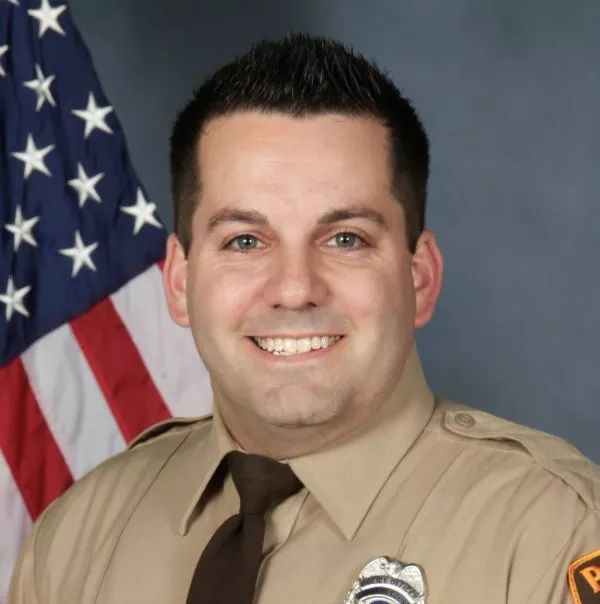 COURTESY OF ST. LOUIS COUNTY POLICE
Blake Snyder was killed in the line of duty earlier this month.
When Tyffani Allen, a longtime hairdresser at Sports Clips, found out that one of her regular clients, St. Louis County police officer Blake Snyder, had been killed in action on October 6, she wanted to do something to help. Allen is the regional manager for several Illinois locations of the Sports Clips franchise, which is geared towards men who want to watch sports during their haircuts. Before her promotion, she was a hairdresser at their Edwardsville location, where she got to know Snyder and also met his wife, Elizabeth, and their now 2-year-old son.
"Blake was a very loyal client of ours at Sports Clips in Edwardsville," Allen says. "He was a family man, and just talking to him about his job, he was a very dedicated officer."
Snyder, 33, was
killed in a shooting in Green Park on Oct. 6
. He was a four-year veteran of the Affton Southwest precinct. The suspect, 18-year-old Trenton Forster, has been charged with first degree murder, accused of shooting the officer point blank as he responded to a service call.
"It kind of hit a little closer to home," Allen says. Not only did she know Snyder, but her boyfriend, police officer Matt Garrett, did as well.
"He was a good person," Garrett says. "He loved his family and loved his job."
Allen wanted to do something for Snyder's family. She decided to
organize a fundraising event
at the Sports Clips location he frequented.
This Saturday, Oct. 29, the location will donate $5 from the price of every "MVP" treatment to the family, as well as accepting cash donations. Beast Craft BBQ will be on hand providing food at no cost, served by owner and chef David Sandusky, who is Garrett's brother-in-law.
"We got a pretty big following of people coming from all different police departments, fire departments, EMS, even city council," Garrett says.
Elizabeth Snyder is also planning to attend, and her son will get the same haircut from Allen that his father did.
The Sports Clips is located at 102 Junction Dr. in Glen Carbon, Illinois, and will hold extended hours of 9 a.m. to 8 p.m. for the event.