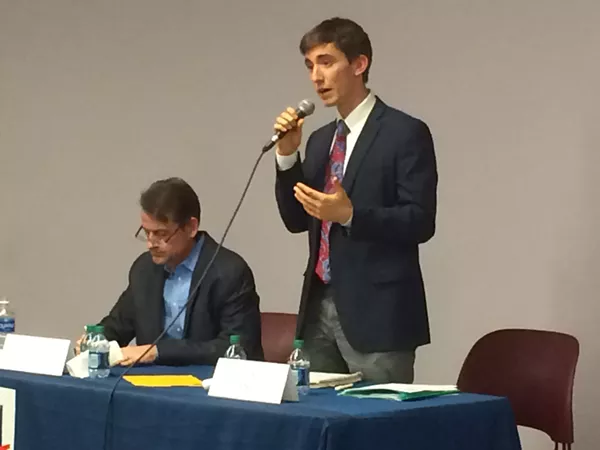 PHOTO BY JESSICA KARINS
Luke Babich, right, is 22 — and running for office in University City.
In 2015, University City privatized its ambulance service. The service had previously been run through the fire department, but the city council decided it would be better off in the hands of a private contractor, Gateway Ambulance. That meant ambulance crews shifted from two trained paramedics to just one.
And some U. City residents say that lone paramedic often doesn't have the skills to respond to medical emergencies. For two candidates for the city council this year, the council's failure to respond to public outcry about the ambulance services is only one example of the chronic dysfunction of University City government. The council, they say, has found itself in a pattern of making decisions without consulting the public and making headlines for the fights — sometimes even physical ones — that break out at its meetings.
Luke Babich, a recent Stanford University graduate, and Steve McMahon, an attorney and longtime player in U. City politics, both think they're the right person to change that. The two are running for an open seat in Ward 1, the only ward up for a vote this year.
They met at a debate in a packed conference room at the University City Public Library on Oct. 21 to make the case for their campaigns. In a city with non-partisan elections, their case to voters comes down to biography — and promises of what they'll do once elected.
Babich is a 22-year-old U. City native who recently returned to his hometown after spending four years at Stanford. Despite his youth, he has a background in government — he's worked in city planning in San Jose, California, and in the office of a U.S. senator. He's running, he says, to help give power in the city back to its citizens.
"Our government has been denying citizens input," Babich says. "A big part of this is about modernizing our government."
For him, that means creating a digital tracking system to keep up with the top concerns of citizens so the city council can adequately respond to them and continuously reviewing whether the programs in the city are working.
"U. City politics have been divisive and dysfunctional," Babich says. "My opponent is part of that."
However, his opponent, Steve McMahon, doesn't see himself as part of the status quo either. McMahon ran as a write-in candidate against sitting mayor Shelley Welsch in 2014; he cites citizens' unhappiness with the current government as the reason.
"I'm running for city council because I've been involved in the community for a number of years," McMahon says. "I've stood with the residents of the First Ward and I want to keep U. City moving forward."
McMahon says he wants to help restore transparency to the city council, and he's particularly concerned about the ambulance service controversy. He cites the horror stories he's heard about Gateway Ambulance, including a woman who said the private paramedics couldn't handle her broken ankle and left her lying by her back door until the police arrived to help.
The union representing firefighters, who previously provided ambulance services, also opposed the takeover. They backed McMahon's campaign for mayor, and Babich says he believes they may be funding his opponent's run for city council as well.
"This is part of the reason we've had such a hard time having rational conversations," Babich says.
He also believes that ambulance services need additional review, but says the union's political involvement shouldn't get in the way of the city providing those services at a lower cost.
McMahon says he has not received any donations from the union during this campaign.
McMahon says his experience as an attorney will help him work with all the members of the U. City council, despite their frequent conflict.
"I can work with whoever's there and whatever position they have," McMahon says.
Lew Prince, a longtime University City resident and the former co-owner of Vintage Vinyl, met Babich when he was campaigning door-to-door and got involved in his campaign.
Prince sees the contest between Babich and McMahon as a contest between old ways of doing things and a 21st century model of innovative, digital politics.
"I think it's a fascinating microcosm of what's going on in the country," Prince says.
PHOTO BY JESSICA KARINS
Steve McMahon, left, ran as a write-in for mayor in 2014. Now he's running for city council against a newly minted Stanford grad.