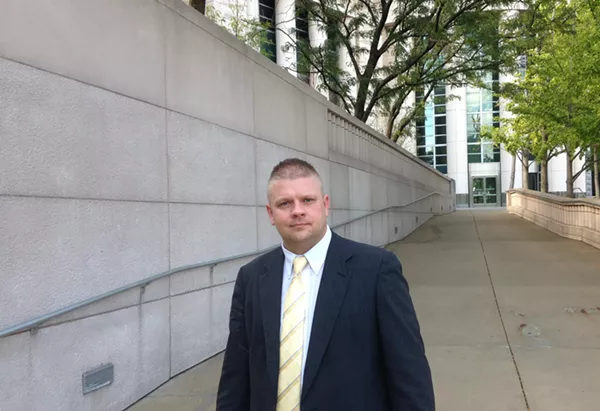 Photo by Doyle Murphy
Ex-Pine Lawn police lieutenant Steven Blakeney leaves federal court on October 5, 2016.
A crooked Pine Lawn cop will have to spend less time in federal prison than originally thought, a judge says.
U.S. District Judge Stephen Limbaugh Jr. clarified on Tuesday that Steven Blakeney's time behind bars will be just 46 months, not 51. The former police lieutenant, who was convicted of civil rights violations for framing a mayoral candidate in the north St. Louis suburb, is being given credit for five months he spent on house arrest while awaiting his sentence.
The change was outlined on Tuesday in an amended judgment, which describes the discrepancy as a "clerical mistake."
Limbaugh had told Blakeney at
his sentencing on October 6
he'd credit him for the months he spent on house arrest, but court watchers, including attorneys involved with the case, assumed the judge was describing his reasoning for dropping below prosecutor's requested sentence of 63 months — and that Blakeney's time under supervision was already being factored in.
Not so. Subtract those five months from the sentence issued last week, and the ex-cop now has just another 46 months to go, Judge Limbaugh said.
Blakeney was convicted in January of conspiracy against rights, deprivation of rights and falsification of records. He arrested Nakisha Ford in 2013 on charges she'd stolen a rival's campaign signs from a convenience store. Investigators later determined Blakeney had bullied the store clerk into making the false claim.
Blakeney has filed a notice of appeal in the case.
We welcome tips and feedback. Email the author at [email protected] or follow on Twitter at @DoyleMurphy.