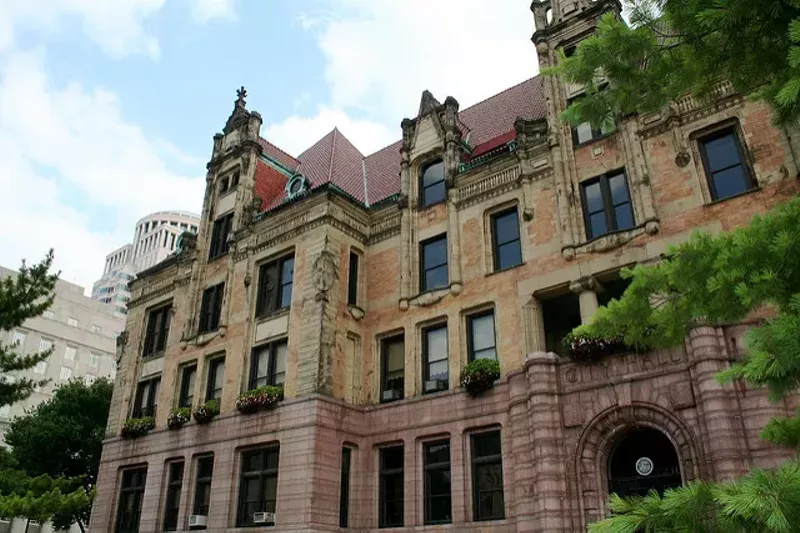 Photo courtesy of Flickr/DustinPhillips
It's a game of thrones at St. Louis City Hall.
Most every person maintains multiple roles and responsibilities in their daily lives, and Chief Sam Dotson — who recently announced he's running for mayor, and has no plans to resign as police chief — is no different. The man has been clear that he will confine his political work to the times when he is not working and won't wear his uniform or drive a police car when working on his campaign. This is honest, fair and entirely legal. So what's all the fuss about?
See also: The Race for St. Louis Mayor Is Going to Be Interesting
Dotson's critics appear to be the usual suspects of local politics and not the general public. His opponents consider him a threat to their desired conquest of the mayoral office and this repeated line that he should resign, be demoted or fired is absolute rubbish. And those attempting to crucify Dotson right out of the gate should be ashamed.
The notion of maintaining one's job while jockeying for another is nothing new or unique. Elected officials almost always run for more powerful roles while tending to their current positions. Another example is Frank Rizzo of Philadelphia, who made a successful transition from Police Commissioner to Mayor in 1972. One simply does not resign from meaningful positions like mother, father, friend, or professional to seek higher office. Holding the job as chief of police should not be considered any different.
An aldermanic meeting to hand Chief Dotson the ultimatum of "resign or don't run for mayor" is absolutely absurd, due to the fact that three of his potential opponents — Lewis Reed, Antonio French, and Lyda Krewson are all aldermen/woman. In the words of Charlie Brown, "good grief." Why not just allow Donald Trump's people to count the votes on November 8th and report the victor to the public? In all fairness, if the Board of Alderman wishes to examine Chief Dotson wearing hats as both Police Chief and mayoral candidate, they should purposely demand that any mayoral candidates be exempt from the discussion. If not, then we as the general public will note their lack of nobility and poor democracy.
St. Louis is riding a new wave of public, political influence and involvement with a thirst for true democracy. Look no further than the public outpour of support for ride-sharing company Uber despite the Metro Taxi Commission's disdain for new competition. Look at Penny Hubbard's
recent loss to Bruce Franks in the 78th district
. A public vote overthrew her, using sheer grit, relentless passion and persistence fired by our disdain for corruption. The same mentality now applies toward Rodney Hubbard,
who is facing a re-vote for committeeman in the fifth ward
after being challenged by Rasheen Aldridge. City dwellers of St. Louis are committed to fair and legal play. We're listening, watching, participating and tired of the same old, same old.
We often use the phrase "the gloves are off" when referring to a serious, down and dirty dispute. Although this mentality may make for entertaining reading, it does nothing to lift our city to new heights. The turpitude in national politics has no place here at the local level. Respect, dignity, and collaboration with one another will give St. Louis a shot at being a great city again. And may I point out that Chief Dotson exudes all of these qualities.
St. Louis indeed has a violent crime problem, right alongside of every other city across the nation. Chief Dotson leaves no impression that he is taking his fingers off the pulse of his current leadership responsibilities. So he shakes fewer hands and kisses fewer babies than his political opponents? His name is on the short list of mayoral candidates and how he chooses to campaign or not to campaign is up to him. I applaud his daily routine of trimming the proverbial trees of crime in our city. It's no surprise he wishes to become mayor to get to the real roots of our problems. At the very least we should be grateful for his commitments and allow him the opportunity to pursue his intent as mayoral candidate and police chief.
Editor's note: A previous version of this essay gave an incorrect date for the presidential election. D'oh! It's November 8. We regret the error.
Allan Hug is a small business owner, activist, and resident of Benton Park. Contact him at allan@KAOHmedia.com. The RFT welcomes concise essays on topics of local interest. Contact Editor in Chief Sarah Fenske via email at sarah.fenske@riverfronttimes.com if you've got something to say.