RFT STREET TEAM
A same-sex couple gets engaged at St. Louis PrideFest.
When it comes to protections for its gay, lesbian and transgender residents, St. Louis doesn't just get an A — we can boast an A-plus, for the fifth year in a row.
That perfect score comes from the Human Rights Campaign Foundation, which assessed LGBT protections in 506 cities across the nation.
Statewide, the eight Missouri cities surveyed averaged a crappy 50 out of 100, with Cape Girardeau, Independence and Springfield (ah,
yes, Springfield
) all scoring less than 20. But those lousy scores were balanced out by St. Louis and Kansas City, which each scored a perfect 100.
Those scores shouldn't come as a surprise to anyone who's been paying attention to St. Louis' record on this issue. Not only did we begin issuing same-sex marriage licenses well before the Supreme Court dragged the rest of the state into marriage equality, but we were
(literally) flying the transgender flag
long before other big cities even realized it existed. Oh, and the first proudly LBGT woman to compete at Miss America — our
openly gay Miss Missouri
? She's from St. Louis.
The Human Rights Campaign says that sort of municipal activism is part of a national trend.
"This year, dozens of cities across the nation showed they are willing to stand up for LGBTQ people in their communities even when some state governments are not," said HRC President Chad Griffin. "This builds on a trend we have long observed: that local governments are at the forefront of our fight for equality. Unfortunately, our opponents have witnessed this progress too, and in recent years, anti-LGBTQ lawmakers have pushed spiteful legislation aimed at pre-empting local protections. That's why it's so important that we continue to not only fight for equality at the state and local levels, but to enact comprehensive federal protections for LGBTQ people under the Equality Act."
As a state, Missouri still has far to go. Statewide, it is still perfectly legal to discriminate against gay people. Are you a newspaper publisher who doesn't
want to run an ad for a same-sex wedding
or a baker who'd rather not provide a cake for a gay couple? You don't need that special "religious freedom" amendment that was narrowly defeated after
an epic filibuster
in the statehouse last year; in Missouri, you're already within your rights.
But progress is being made on the city level, even if state legislatures continue to take a step backward for every one forward. Since the Human Rights Campaign debuted the index in 2012, the number of cities earning perfect marks has more than quintupled. You hear that, Springfield? There's still time to get your act together.
The index ranks cities on five metrics: Non-discrimination laws, municipal employment policies (including transgender-inclusive insurance coverage and non-discrimination requirements for contractors), inclusiveness of city services, law enforcement and municipal leadership.
Here are the scores notched by cities within Missouri, per the Human Rights Campaign: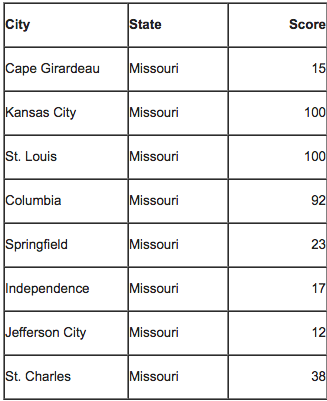 We welcome tips and feedback. Email the author at sarah.fenske@riverfronttimes.com